As the world reacts in horror to yet another senseless, violent shooting, people are shocked that it did not happen in America, as the country has become infamous for its out of control, hardly regulated gun violence. But that doesn't mean Donald Trump gets a free pass — this is yet another mass shooting that the U.S. president influenced and must take responsibility for.
Brenton Tarrant from New South Wales, Australia has been identified as the gunman in a New Zealand mosque shooting that was livestreamed and left 49 dead and 48 injured. Not surprisingly, he was a Trump-loving white supremacist who latched onto the president's disgusting pro-white rhetoric. Tarrant's 74-page manifesto has been revealed, and it shows just how influenced he was by Trump's agenda, as he described the president as a "symbol of renewed white identity."
In his manifesto, Tarrant wrote that he had wanted to spark a "civil war in the U.S." and explained why he was performing the terrorist attack. Identifying himself as a Trump supporter, he praised the American president for giving white people a voice. Tarrant also stated that he had chosen to use a gun instead of other weapons because he wanted to cause a debate about firearms and the Second Amendment in the United States. Tarrant wrote:
With enough pressure the left wing within the United States will seek to abolish the second amendment, and the right wing within the U.S. will see this as an attack on their very freedom and liberty.

This attempted abolishment (sic) of rights by the left will result in a dramatic polarization of the people in the United States and eventually a fracturing of the US along cultural and racial lines."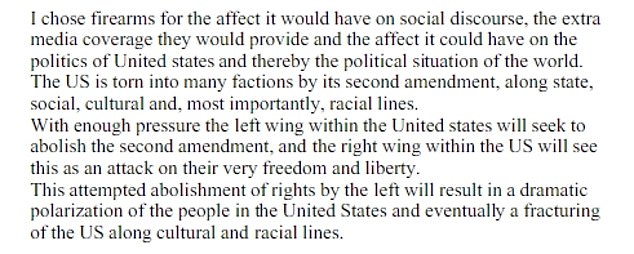 Tarrant also stated that he had been planning the attack for two years — which coincides with the amount of time that Trump has been in the White House. Trump's response to the massacre has been weak so far and he is under pressure on both sides to make a strong statement and denounce white supremacy. Unfortunately, we all know he won't disappoint his base by doing that.
Featured image via screen capture