Donald Trump has gotten himself into yet another big ol' mess with yet another foreign country after he made the unpopular decision to pull United States troops from the Syria-Turkey border today — complete with a hairbrained and rather dictator-esque tweet about crashing the economy in Turkey should they toe over his arbitrary line of what he considers "off-limits" in his "great and unmatched wisdom."
And y'all, he really shit the bed on this one.
Trump's latest move has been met with pushback from folks you'd never dream to expect — including Lindsey "Lapdog" Graham and "Moscow" Mitch McConnell, two of the staunchest MAGA sycophants to ever grace us with the displeasure of walking the earth.
But they're not the only ones that have more than a little grief with Donnie's off the wall decision.
Today, Defense Secretary Mark Esper took to his Twitter account with a tweet that directly contradicted Donald's invitation of a Turkish military operation in northern Syria — but ended up taking it down rather quickly.
Politico's David Brown found and flagged the tweet in question where Esper stressed the fact that the United States Department of Defense "does not endorse a Turkish operation in Northern Syria."
"We will work with our NATO allies and Coalition partners to reiterate to Turkey the possible destabilizing consequences of potential actions to Turkey, the region, and beyond," the Defense Secretary's tweet read, complete with a link to a press release on the official DoD website which belabors the claim that both the department and the president do not support the Turkish invasion into Syria.
While Esper quickly took down the tweet that slapped POTUS in the face, it wasn't before screenshots were captured: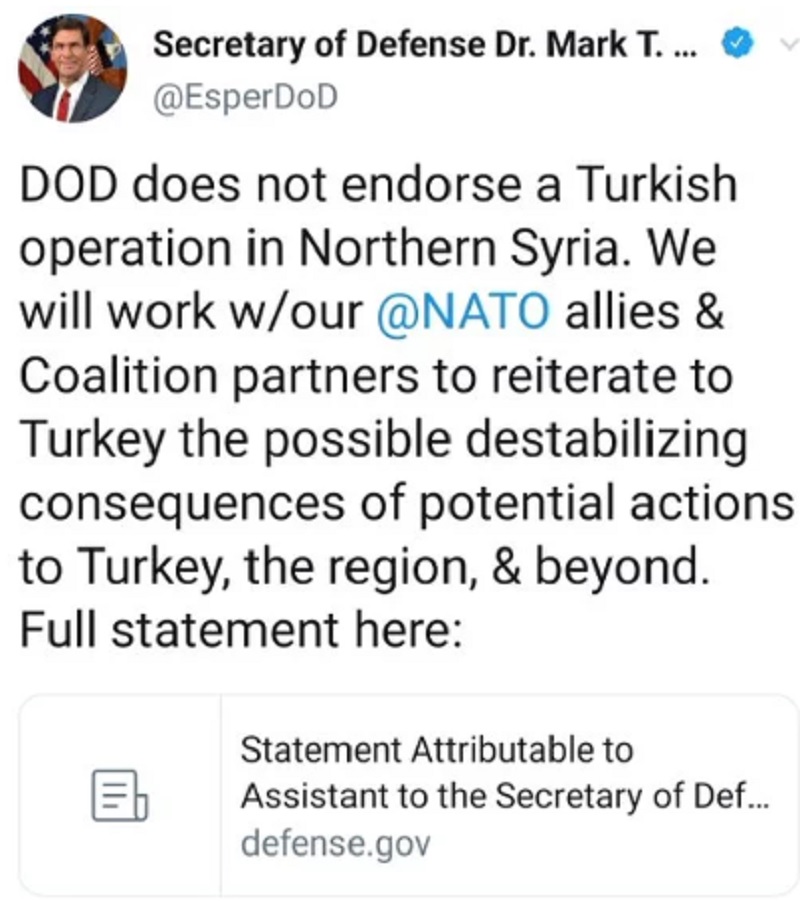 Problem is, the statement issued by both Esper and the DoD is a direct counterstatement to that which was issued by the White House last night stating, "Turkey will soon be moving forward with its long-planned operation into Northern Syria," adding "United States forces, having defeated the ISIS territorial 'Caliphate,' will no longer be in the immediate area."
Either Esper didn't get the memo or he got really scared, really quick. Either way, screenshots don't lie, buddy. Trump's already seen your little transgression. You can apply at McDonald's online these days.
Featured image via Flickr/The White House 
Like what you see here? Join the discussion on Facebook over at Americans For Sanity!