No matter who you are, it's hard to imagine that you've never heard the name Jeffrey Epstein. The billionaire was arrested yesterday and faces sex trafficking charges connected with the same crimes that he's long been accused of. A Miami Herald article last year uncovered the fact that when Epstein was first prosecuted, his money and power afforded him the ability to essentially avoid serious prosecution, despite having been accused of heinous crimes.
In fact, the Herald exposé showed that the prosecutor in the case entered into an illegal plea agreement that allowed Epstein's ludicrously light sentence to pass without ever informing his victims of what he'd been sentenced to, in violation of federal law. That prosecutor from a decade ago — Alex Acosta — now serves as Donald Trump's Secretary of Labor.
Why would Trump even know the guy from the Epstein case, though? Oh, that's right: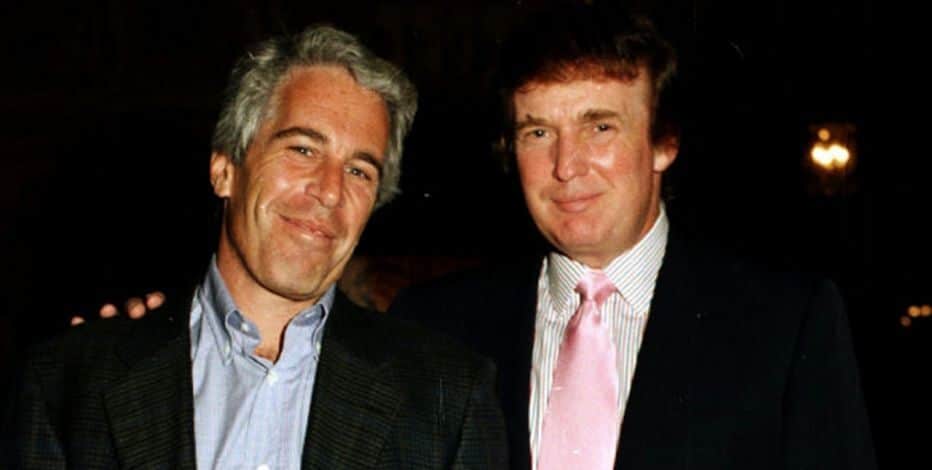 They're pals.
In fact, Donald is also accused of partaking in Epstein's illicit parties, but like Epstein himself, has been largely shielded from consequences due to clout.
Trump was more than an acquaintance, for sure. Back in 2002, he said this about Epstein:
I've known Jeff for 15 years. Terrific guy. He's a lot of fun to be with. It is even said that he likes beautiful women as much as I do, and many of them are on the younger side. No doubt about it. Jeffrey enjoys his social life."
I will tell you what, though: He sure hates being associated with Epstein now. He has to have known that the day would eventually come when Epstein finally faced the music for his crimes, and he further has to have known that his involvement would come up again and potentially damage his presidency or even get him in legal trouble.
This video from a rally in Duluth, Minnesota is proof that Trump would like to distance himself — a protester showed up with a blown-up version of that photo above, and Trump about had a meltdown:
Let's see how he reacts after the new judge throws the book at Epstein.
Featured image via screen capture
Like what you see here? Join the discussion on Facebook over at Americans For Sanity!