The entire country holds a lot of disdain for Kentucky Senator and Senate Majority Leader Mitch McConnell. He's yet another one of Donald Trump's minions who lays in his lap and does whatever he says, the good of the American public be damned. But the state of Kentucky really has their own special sort of hate for the man.
The slimy politician is almost always greeted by a plethora of protestors every time he sets foot in his home state, often times for his more than lax approach to climate change and gun control. But thanks to the group Indivisible Kentucky, McConnell will now be greeted with a big ol' billboard reminding him of how much his constituents really do detest him.
The Indivisible Kentucky group says they paid for the billboard, which is located just off the side of I-65, near Cardinal Boulevard because members have been unable to reach the cowardly senator to discuss their grievances or get any answers from McConnell.
You can see the billboard, which says "You make us sick! #DitchMitch2020 Kentucky Deserves Better," when you're driving on the southbound side of the highway. Indivisible Kentucky says that they will be paying for another billboard in the city of Louisville that will be near Saint Catherine Street.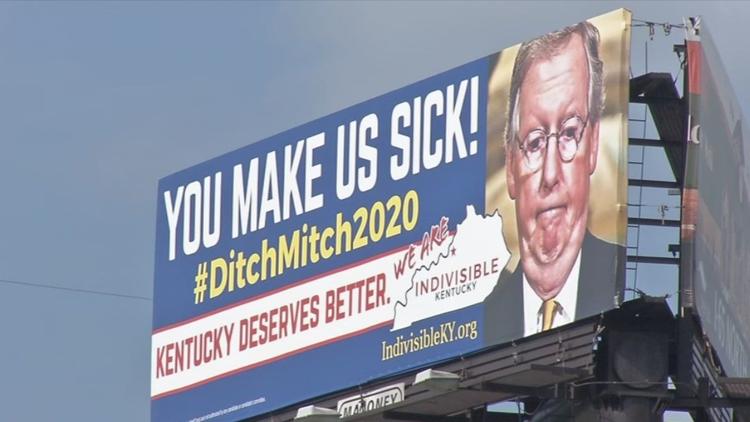 It's increasingly clear that Americans are becoming fed up with Donald Trump and the shady members of his bullshit administration. Most are still hoping for impeachment proceedings, but in the meantime, the public is on a warpath to vote every Trump lapdog out of office that they can. And it looks like Mitch McConnell certainly won't be finding any love in his home state.
Featured image via DC Tribune Gallery
Like what you see here? Join the discussion on Facebook over at Americans For Sanity!