Most Americans (and tons of federal workers who aren't getting paid) are furious about Donald Trump's pathetic government shutdown while he tries to bully his way into getting his racist border wall funded.
The president, despite saying he would "own" the shutdown, has since been deflecting blame to Democrats now that he's been getting blasted for it. However, America knows that Trump is really the responsibility of the Republican Party, and some of them are looking to the party's leaders to do their jobs and save America from Trump.
Not too long ago, The Democratic Coalition and c0-founder Scott Dworkin made a brilliant move to reach out to Senate Majority Leader Mitch McConnell (R-KY) and put some heat on him. While all of this government shutdown mess has been happening, McConnell has been hiding in the background – and it's time he actually exercised some leadership instead of passing the work to the Democrats. In response to this mess, The Democratic Coalition is purchasing billboards in McConnell's state that call on him to end the government shutdown: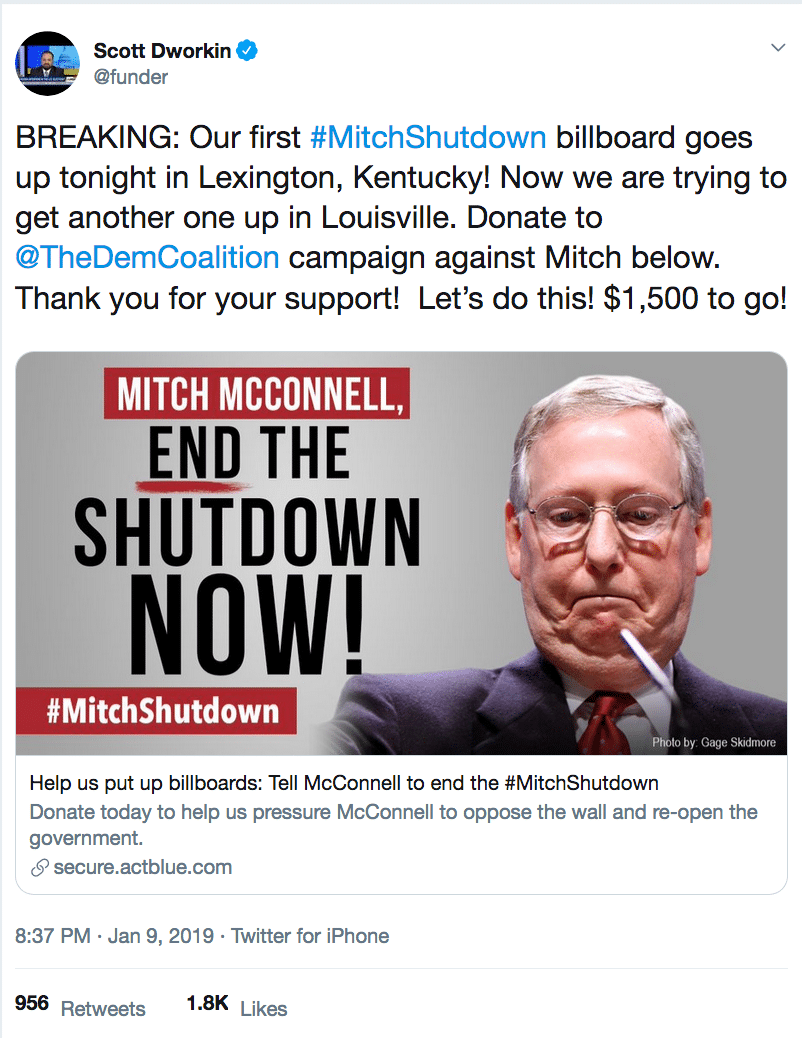 The website for the billboards explains just why McConnell needs to act:
Donald Trump still demands a racist, ineffective and mind-bogglingly expensive wall on the U.S.-Mexico border — and has even shut down the federal government to accomplish it.

Enter the New Democratic House – the adults in the room. Speaker Pelosi is poised to pass six spending bills that will re-open the government with no funding for Trump's bigoted vanity project.

Donate today to help us pressure McConnell to oppose the wall and re-open the government.

We want to put up billboards in Kentucky that demand McConnell take action to end this shutdown now. These are digital billboards so once we raise enough money, then they can go up within 24 hours or so.

After you donate, please send a letter to your Senators here to pass the House spending bills.

As the shutdown enters its third week, Trump only digs deeper by claiming most of the federal employees who are not getting paid are "Democrats." This is not normal.

The administration is also spitting out pathetic, fear-mongering lies that thousands of terrorists are being apprehended at the southern border – facts that have been easily refuted by statistics from Trump's own government.

We can end this shutdown right away if McConnell and enough Republicans join every Democrat in the Senate to fully fund the government, without the outrageous $5 billion for Trump's border wall."
This is brilliant and puts McConnell directly in the crossfire where he will need to do something. If you'd like to support this billboard project, you can donate to it here.
Featured image via screen capture