Donald Trump is finally the subject of an impeachment inquiry per an announcement from House Speaker Nancy Pelosi after he found himself entangled in a scandal of his own making when he chose to attempt to extort the president of Ukraine into giving him dirt on his Democratic opponent, former Vice President Joe Biden, by withholding military funding and aid to the country.
Since the announcement of the impeachment proceedings, Donald has attempted to chalk this fiasco up to that of the investigation and subsequent report conducted by former Special Counsel Robert Mueller regarding his collusion with Russia and obstruction of the special counsel's investigation — claiming that this is also no more than a "witch hunt" aimed at taking down a perfect president.
Trump has tried to make it seem as though impeachment isn't something that Congress and specifically the American people actually want to see happen.
But according to a new poll from Hill-HarrisX, Donald is dead wrong.
The survey in question was conducted right after Madame Speaker announced her decision to open a formal impeachment inquiry into the president of the United States as a result of the whistleblower complaint that revealed the depths and details of Trump's scandal and it revealed that America's support for impeachment has actually risen 12 points since the same survey was conducted just three months prior.
The new poll showed that 47 percent of those who responded support Pelosi's decision — a 12 point uptick from the last similar survey which asked participants if Democrats should initiate impeachment proceedings.
In addition to the 12 point rise in support of impeachment, an additional three-point drop in impeachment opposition was found in the poll as well as 11 percent of voters who were still unsure.
The best part of this particular poll is the fact that the increase in impeachment support was not limited to Democratic voters. While Democratic support jumped from 59 percent to 78 percent (a 19 point increase) Republican support jumped up 5 points as well, to 18 percent and Independents saw a double to 41 percent support.
It's pretty safe to say that despite Donald's attempts to force the American public to believe otherwise have failed — we all want him out.
You can see the poll numbers here: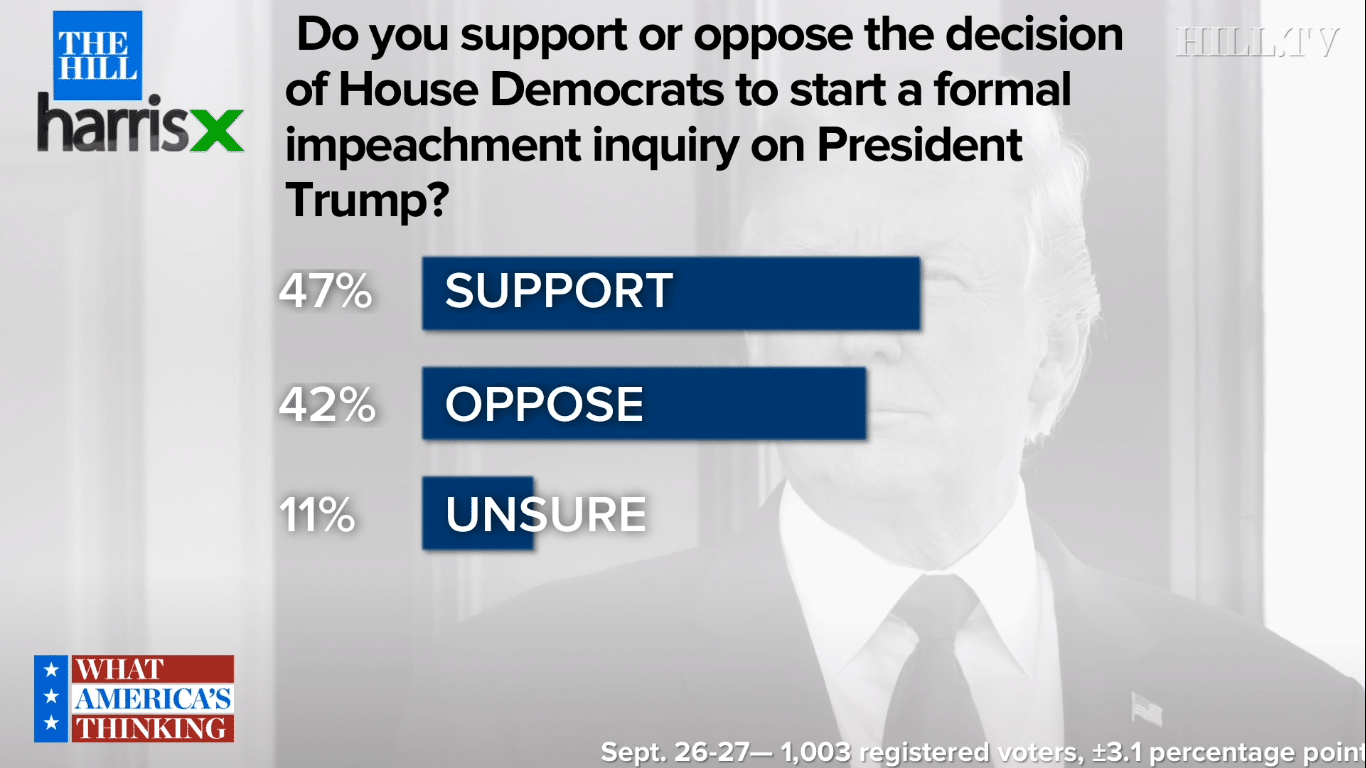 Featured image via DC Tribune Gallery
Like what you see here? Join the discussion on Facebook over at Americans For Sanity!