The Trump kids catch a lot of hell just for being a Trump kid. But they really don't help their case when they go out of their way to make a complete embarrassment out of themselves. Ivanka's recent intrusion at the G20 Summit in Japan where she absolutely humiliated herself by trying to interject her uneducated presence into the conversations of world leaders is a prime example — she had absolutely no business being there and only served to make her situation worse and ensured that she was a complete laughing stock by riding her daddy's coattails somewhere she didn't belong. Had she stayed home and played with her purses, she could've saved herself a whole lot of mortification.
And the same can be said for the eldest Trump boys and their Twitter accounts. It seems those two got their social media habits from their father, as they're always taking to the platform to post ridiculous nonsense only to get completely destroyed by the rest of the Twitter-sphere.
Of course, that's precisely what happened to Eric Trump when he tweeted a side by side photo of former President Barack Obama and his father, Donald Trump, attempting to draw a comparison between the two and their interactions with North Korea.
Eric originally tweeted the photos with the caption "DMZ 2008 vs. DMZ 2019#KeepAmericaGreat." But deleted it after an onslaught of criticism for being too dumb to realize that Obama wasn't the president in 2008. However, he can dirty delete all he'd like. Screenshots are still a thing: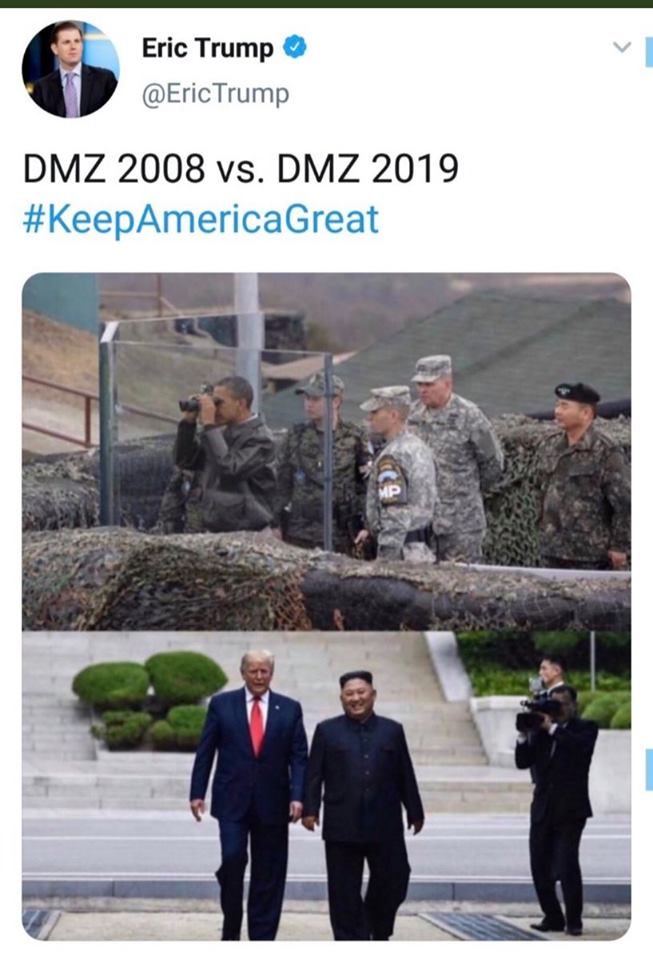 Eric went back and "fixed" his tweet, with the new caption, "This was Obama at the DMZ in March of 2012. This is Trump at the DMZ in June of 2019. #ChangeWeCanBelieveIn #YesWeCan #KeepAmericaGreat." But that did nothing to staunch the ridicule:
Hahahahahahah. Trying again, huh?

You really are the dumb one

— lisastark35 (@lisastark351) July 2, 2019
One is standing with our soldiers, the other is standing with dictators who kill our citizens and aim missiles at our country

— Ogie Oglethorp (@IrvingWatching) July 2, 2019
To late Eric everyone already saw 😂😂https://t.co/nQHWA0awdn kinda like everyone saw your sister embarrass this nation trying to play important.

— still here (@ceesp0trun) July 2, 2019
The difference is … Trump surrendered … 🏳

— Fathom (@NextLev21918002) July 2, 2019
— Shawn Williamson 🌊🌊🌊🌊🌊🌊 (@Saffron007) July 2, 2019
Who is this, Eric??? Say his name!! pic.twitter.com/8CRc0VBNun

— ®️occo➕✖️ (@Tx37Rocco) July 2, 2019
Very good, Eric! You got it right this time! For a special reward, you can eat more of your glue.

— Tomas Gonzalez (@tomas_tgonz82) July 2, 2019
Crayon Eater Eric finally corrected himself when he realized Bush was president in 2008

— Skydiver (@TheGOPFooledYou) July 2, 2019
Ooh but wait I thought it was 2008. Damn you have the I.Q of a soapdish. No wait, thats an insult to soapdishes everywhere!

— Shawn Carpenter (@shawnca123) July 2, 2019

One of these days perhaps he'll learn to stay the hell away from Twitter.
Featured image via DC Tribune Gallery
Like what you see here? Join the discussion on Facebook over at Americans For Sanity!