Pretty much all of the notable Trump spawns got their social media habits from their daddy — which means the only thing they know how to do is publish a typo-filled shitpost, whine about the discrimination and mistreatment that they're constantly subjected to because they're walking, talking human garbage, and of course, share the occasional distasteful meme in hopes that a few white supremacists will validate them.
But the Trump heir with social media habits most similar to his detestable father is none other than Donald Trump Jr. himself. He shares more than just his name, that's for sure.
Junior has a nasty little habit of taking to Twitter or Instagram and posting whatever he sees fit, regardless of how offensive or inaccurate it may be. Because evidently "fake news" only applies to the media outlets that happen to be telling the truth about his father and that clusterfuck of an administration. The Trump family's bullshit opinions are supposed to be exempt from that particular label.
But this latest Instagram of Trump Jr.'s may just take the cake in several different categories — including stupidest, most offensive, most childish, and the gold ribbon in the fuck boy douche nozzle category.
The post in question was a meme featuring three of the Trump family's most favorite targets — former POTUS Barack Obama, former POTUS Bill Clinton, and former VP and 2020 Democratic hopeful Joe Biden.
The photo, based on three relatively famous images, depicted Clinton kicked back in a chair, donning a blue evening gown, while Obama clutched at his shoulder on the right and Biden apparently sniffed him from the left. Obama and the background, of course, are from Kehinde Wiley's painting for the National Portrait Gallery, while Biden comes from an out of context candid photo and Clinton is from a painting that billionaire pedophile Jeffrey Epstein hung in his home.
We're not sure why Don would want to remind the public of Epstein, but he apparently thought the meme was funny enough to risk it.
Junior captioned the photo with, "Enjoy," adding several laughing emojis.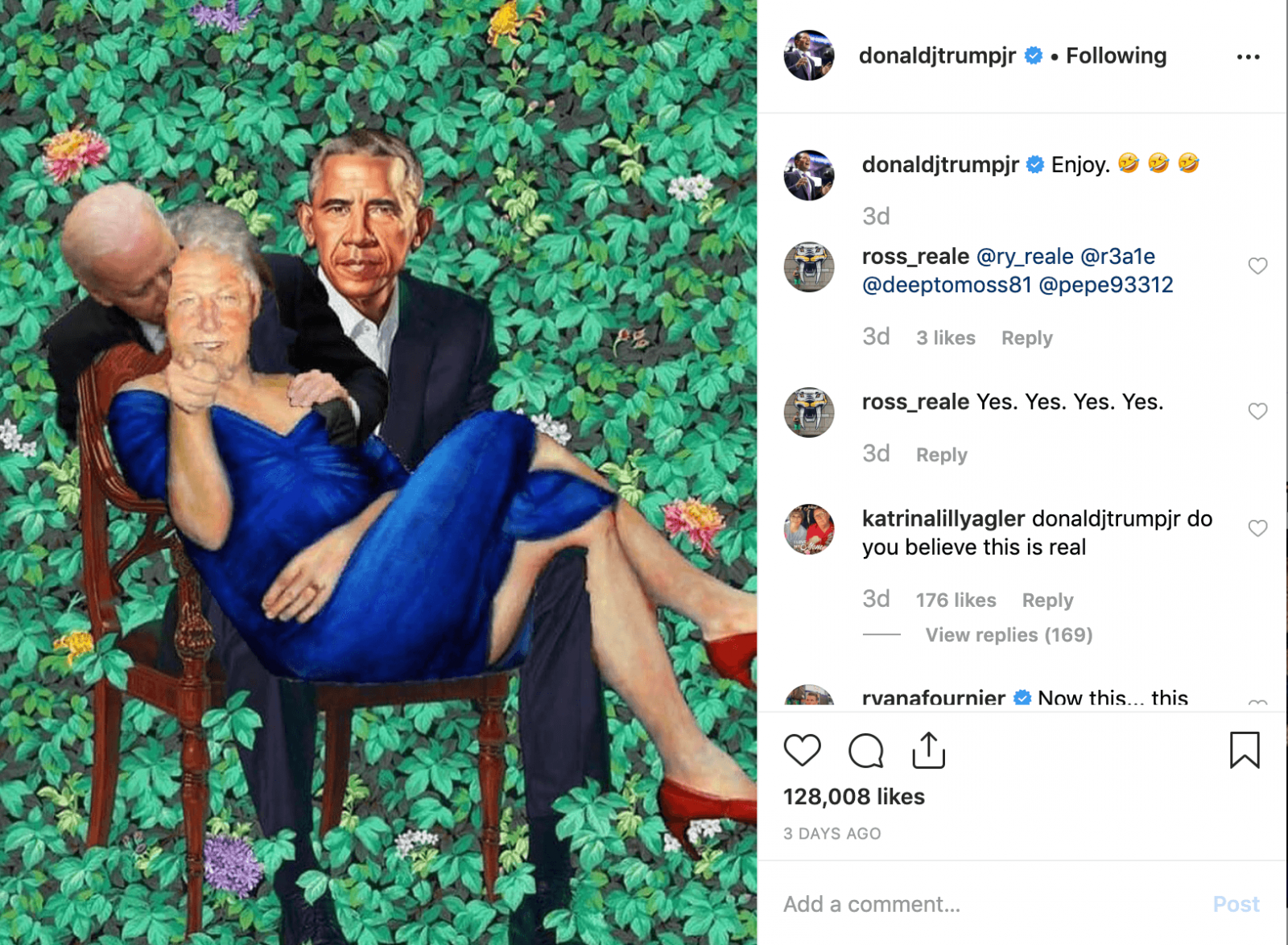 Twitter users didn't disappoint:
We're in the dumbest possible simulation

— Molly Jong-Fast (@MollyJongFast) July 26, 2019
Junebug get ready for prison, your dad will be out of office soon and a 🚌 will be coming for him to throw you under, bijan will testify against you and flynn! Exciting times coming.#PervertInChief

— Beverly Atherton (@Bev68055257) July 26, 2019
This would be comedy if he wasn't running the fucking country

— Your Therapist Says🗒 (@TherapistAngry) July 26, 2019
Nice try you spoiled ass waste of a good trust fund. But if we want to go down the slippery slope of dank internet memes, let's chat about the ones featuring your daddy with his good buddy Jeffrey Epstein, shall we?
Featured image via DC Tribune Gallery 
Like what you see here? Join the discussion on Facebook over at Americans For Sanity!