In the wake of what can only be described as a nightmare week for Americans, with dozens and dozens killed in mass shootings spanning the map, Donald Trump took an unholy tour of the cities that fell victim to these tragedies — well, the cities that weren't in California, anyway; he hates California and doesn't care if people there die, or so it seems from all available public evidence.
But Trump is not the kind of man who has unity flowing in his slipstream, like a zipper of brotherhood closing on him as he travels place to place. We have seen that from some presidents — Reagan could famously bring hostile world leaders together to speak, and Clinton "felt your pain," and George W. Bush made you want to have a beer with him, and Barack Obama's speaking skills were unmatched for inspiring families to come together and old friends to reunite and ancient enemies to come to a negotiating table.
Much to the contrary, most people just wish Trump would shut up for two seconds.
Maybe that's why folks were so uniformly opposed to him visiting the victims of these tragedies — none of those still hospitalized at University Medical Center in El Paso would agree to meet with him, or even meet with their Senator Ted Cruz, who likes to post videos of himself playing with assault rifles.
And maybe that's why I ran across this Twitter exchange that would explain literally almost EVERYTHING about the horrorshow of photos released by the White House depicting the President smiling and joking and giving the thumbs up with nurses from a Dayton, Ohio hospital, afterward declaring that he was treated like a rock star.
It started with this:
Who thinks all of these woman are paid actors? I do! This is staged! Very very fake news😑 pic.twitter.com/a5DcsckniM

— Bubbagirl💙🌊 (@bubbagump324) August 7, 2019
I'm usually liable to take things like that with a grain of salt — there are plenty of conspiracy theories out there already. But then a man in Georgia followed up with this:
I got a text from a friend who knows a nurse at the hospital told her that many of the women who were at the hospital wearing nurse uniforms did not work at the hospital. They showed up couple of hrs before Trump parrived. This was staged. That's why no reporters were allowed

— Farid Ghalili (@faridghalili) August 8, 2019
Many who go to Trump rallies and start chants are placed there. Paid or not paid I don't know. I don't know if these people at the hospital were paid or not. I don't know as disgusting Trump is if he knew about these fake nurses. But he has people who can make this happen.

— Farid Ghalili (@faridghalili) August 8, 2019
He was told he is not welcomed there and saw the protesters. His people had to do something to prove that he was welcomed and I bet this was their twisted way of doing it. Hospital management may not have been on it but had to go along with it.

— Farid Ghalili (@faridghalili) August 8, 2019
Many commenters on Twitter pointed out that the nurses who even had visible name tags had them conveniently flipped over, while still others noted that some of the uniforms appeared to be ICU, some birthing, some long-term care — as though, if these ARE all real nurses, they simply got all the nurses from every department who wanted to meet the President and put them on a single floor for when he arrived.
Whatever the explanation is, the behavior is completely inappropriate — does this look like the somber scene of the aftermath of a mass shooting?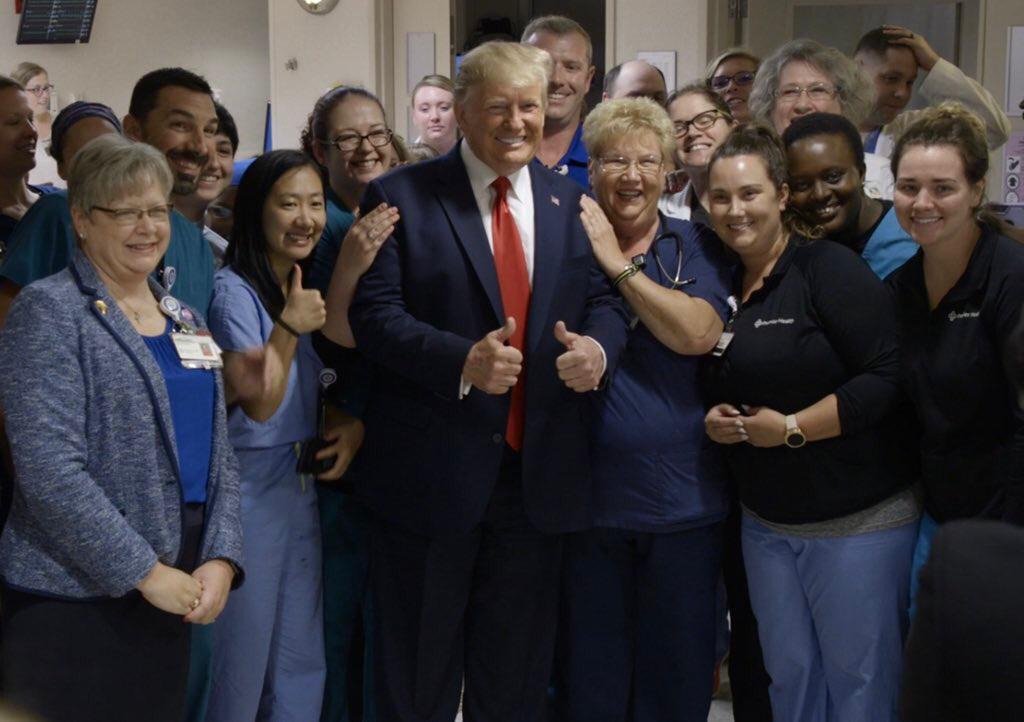 Featured image via Twitter
Like what you see here? Join the discussion on Facebook over at Americans For Sanity!