Deflection and distraction are two of the most powerful tools at Donald Trump's disposal, and often they do their job admirably — whether it's simply convincing his base to amplify a particular message in place of some unfavorable news about him or getting the media to talk about his antics following a screw-up that he purposely does louder and longer than the screw-up itself.
This time, as Democrats in Congress have sent out subpoena after subpoena, it seems a pair of court orders in particular raised the hackles of the feckless president: House Oversight Chair Elijah Cummings demanded the email records of Jared Kushner and Ivanka Trump during both the campaign and during Trump's presidency — since they each conduct official government business on both official and private accounts.
But in a stroke of irony too big for even a blockbuster Hollywood script, Trump's method of distraction this time backfired in such a way that it has made him look like an absolute buffoon: He decided to go after Rep. Cummings' city of Baltimore, Maryland, saying that it was in terrible shape because of Cummings' leadership.
By now you've already seen the tweets from over the weekend, and likely even seen people puzzling over Trump's fury about Baltimore since his son-in-law is considered one of the biggest slumlords in the city — a primary reason for some of the conditions there.
But Trump is so furious about the backlash to his tweets — he seemed to have no idea he even sounded racist — that he has doubled and tripled down on his tirade, lasting well into today. And if he didn't sound racist enough for you before, he's now attacking Al Sharpton, who simply tweeted about being on his way to Baltimore, literally saying that the Reverend hates white people:
I have known Al for 25 years. Went to fights with him & Don King, always got along well. He "loved Trump!" He would ask me for favors often. Al is a con man, a troublemaker, always looking for a score. Just doing his thing. Must have intimidated Comcast/NBC. Hates Whites & Cops! https://t.co/ZwPZa0FWfN

— Donald J. Trump (@realDonaldTrump) July 29, 2019
Baltimore, under the leadership of Elijah Cummings, has the worst Crime Statistics in the Nation. 25 years of all talk, no action! So tired of listening to the same old Bull…Next, Reverend Al will show up to complain & protest. Nothing will get done for the people in need. Sad!

— Donald J. Trump (@realDonaldTrump) July 29, 2019
And despite Trump retweeting white nationalist Katie Hopkins again, who literally called an American city a "shithole" in the message Trump chose to retweet, Baltimore does not have the highest murder rate in America. That honor belongs to St. Louis, Missouri, which is represented by a Republican Governor and a state legislature that is 70 percent controlled by Republicans.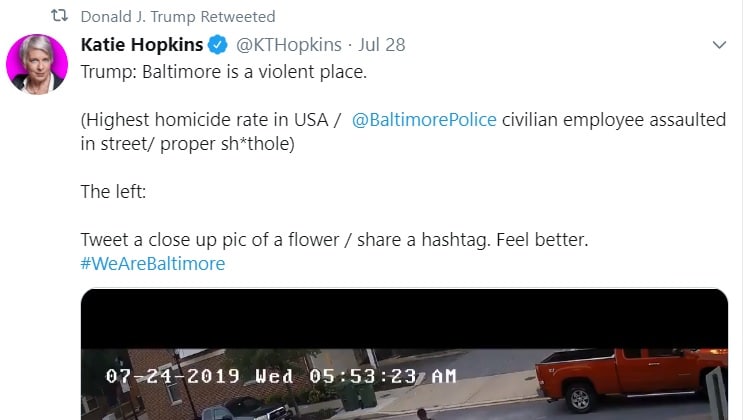 But maybe the most ironic twist of all came from House Foreign Relations Chair Elliot Engel, whose district in the Bronx, NY, is basically adjacent to Trump Tower. He couldn't help but point out that Trump's own property has been cited for major violations of the same kind of "infestations" Trump's been tweeting about for the last five years:
Tell me, @realDonaldTrump, what's rodent #infested again? https://t.co/oFwB9AytWI

— Eliot Engel (@RepEliotEngel) July 28, 2019
The article that Engel linked to is a litany of code violations by Trump, all because he doesn't actually care about Baltimore, or New York, or any city at all. He cares about making money.
But keep tweeting, Donnie. Now that an impeachment inquiry is officially underway and your kids' emails are being looked over, your time to do so with impunity may be shorter than you think.
Featured image via screen capture
Like what you see here? Join the discussion on Facebook over at Americans For Sanity!