Business Insider's David Choi reported on Thursday morning that soldiers in attendance at Donald Trump's "Salute to America" military parade have been strictly instructed on exactly what to say if they are approached by a member of the media or even the general public.
Noting that many of those in uniform may have been "voluntold" to be there — a term that's pretty self-explanatory — Choi referenced the motivational handouts that liberal outlet Mother Jones obtained in advance of the Independence Day event. Perhaps the strangest part of all on the cards was the suggestion to say that the individual loves their tank.
I wanted to see for myself, because this all seemed strange to me, and going on Mother Jones, I realized that a lot of what's contained in the instructions is common sense: Be conversational, be aware that everything you do or say can and will be recorded, etc.
But clearly, this is an attempt to avoid any kind of "behind the scenes" reporting in which either the military or the President could potentially be embarrassed by some soldier telling a civilian what they really think about the whole dictatorship-style military display in the streets of DC. Trump doesn't want that, and the military just can't afford to take any hits in recruitment.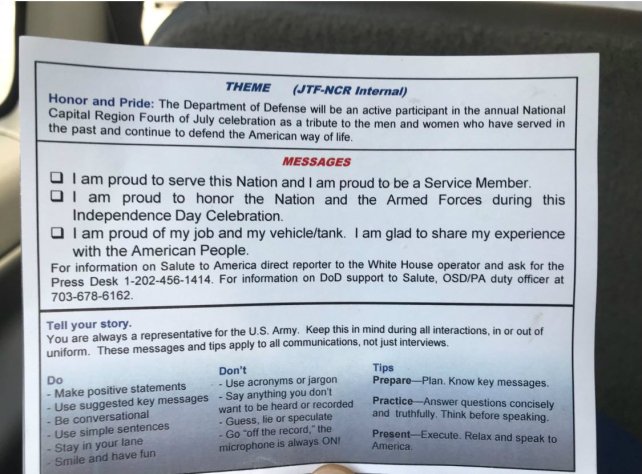 The card even specifically references Trump's name for the celebration, "Salute to America," lest you think this is a recycled card of instructions from years past. That's likely one of the biggest changes to previous years' duties — directing reporters to the White House press desk or directly to the soldiers' superior officers.
One might think, however, that the Trump White House would benefit from some of the advice in the "don't" column on that card.
Featured image via screen capture
Like what you see here? Join the discussion on Facebook over at Americans For Sanity!