Perhaps it won't come as a surprise to you, dear reader — especially if you join us regularly to examine the activities and motivations of the Trump administration — that last night's address from the Oval Office, Trump's first of his presidency, had a bit of an ulterior motive.
After all, we are a nation which has grown accustomed to seeing the President regularly use news releases and impromptu announcements to distract from other news or to realign mainstream coverage to subjects he's more comfortable with. Going into last night's speech, there was no lack of speculation that the President was motivated by a desire to see cameras pointed back at him, rather than the Democrats whose control of the House of Representatives — and likely commencement of untold and innumerable investigations — has dominated coverage in the days since the new Congress was sworn in.
Aside from that, the government shutdown has, for nearly three weeks now, been a PR battle between Donald Trump and Democratic leaders in Congress over who takes ownership of it — despite Trump's on-camera assurance to Chuck Schumer and Nancy Pelosi that he would not blame the Democrats and that he would gladly take responsibility for the shutdown.
But all of that is too political. If that's the stuff you think Trump is concerned with, you're thinking much too big, friends.
Just before the 9PM Eastern speech on Tuesday night, Trump's campaign committee sent out texts and emails to everyone on their contact list imploring them to help him raise half a million dollars in just a few hours, and they did it under the guise of "securing funds for the border wall." Clearly, Trump's people saw the success of the GoFundMe that raised millions of dollars from Republican dupes who didn't really think through what the mechanism might be for transferring their donations into some way to build the wall they thought they were donating to.
The official campaign page urges visitors to contribute "in the next FIVE MINUTES to our Official Secure the Border Fund to add your name to the President's list." A countdown timer accompanies the request that starts with 5:00 on it — the five minutes, of course, starts over if you refresh the page. And if you let it run out in the background while you, say, write an article about the President's big dumb push to scam his gullible supporters out of another half million dollars by making them think it will go directly to the wall, you end up with the very helpful scene below: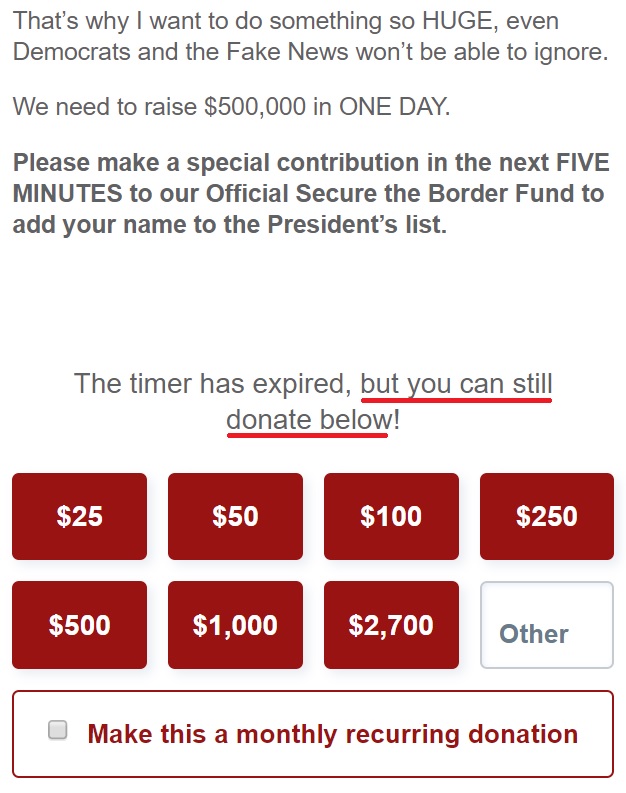 Any money you donate, of course, does not go to the wall. That's not how any of this works. Otherwise, anyone with lots of money could just send it to the President to do something they really wanted, and nobody would ever have to vote on it. Rich people could just send money to Donald Trump to, say, paint the White House gold or put a video game console in the back of every seat on Air Force One.
The problem is, dear readers, that the folks that message is aimed at aren't quite as… discerning… as you are.
Featured image via screen capture