Late Friday evening, America learned of the passing of former president George Herbert Walker Bush, just a few months after his wife Barbara, at the age of 94 years old.
Despite the first Bush president's legacy as Vice President to Ronald Reagan, who began the racist and failed War on Drugs, effectively ended the manufacturing era in the US, and created an economic system that favored the ultra-rich while simultaneously making social outcasts of the poor, George was able to salvage the rest of a legendary career in government by simply being a better President than his predecessor.
The problem is, he wasn't charismatic or popular enough to stay in the role. In fact, there are a lot of people who don't remember much about George Bush Sr's life at all — including the current President, Donald Trump. Of course, Trump is no student of history. But he was a TV star, quite used to repeating things that people told him to say, so all he's ever really needed was to surround himself with people who do know what they're talking about.
No such luck for Trump on his statement regarding Bush's passing. In fact, we'll just include a screen capture in case the White House elects to delete the post: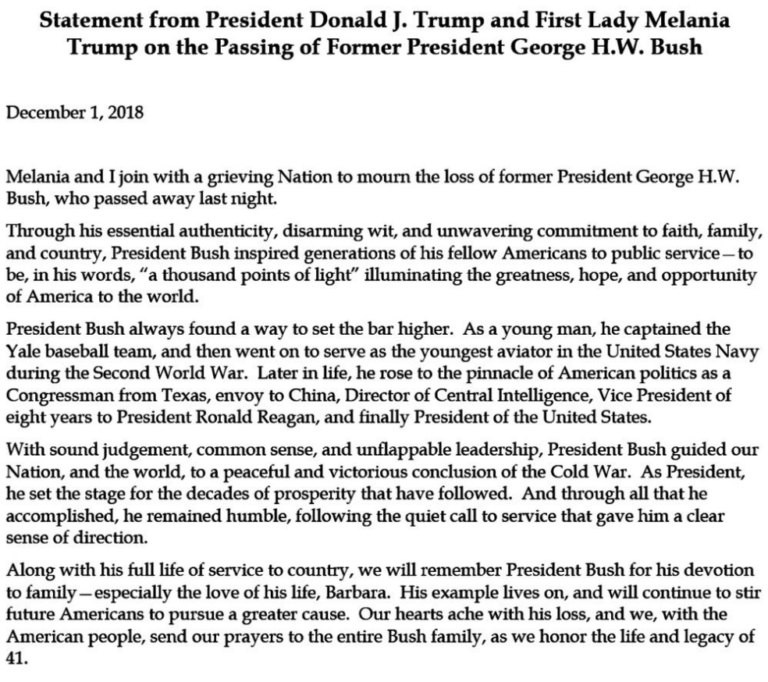 We were pretty surprised to find out that someone on Team Trump knew that Bush 41 once headed up America's premier intelligence agency — it's amazing how many people never knew he was the CIA Director — but it's his early life that TrumpCo got wrong. It's not the events, either, but the order of them: Bush certainly didn't have time to have captained a college baseball team prior to becoming the youngest Navy pilot in World War Two.
In fact, Bush joined the Navy literally days after graduating from high school, and it wasn't until the conclusion of the war in 1945 that Bush was discharged and went on to attend Yale, where he did indeed become captain of the baseball team.
Really, it's a rather minor discrepancy, but indicative of Trump's attention to detail — he didn't just get a major detail of Bush's life wrong, he got the order reversed of perhaps the easiest details to keep straight. How could he have been the youngest pilot if he didn't join the war until after college?
Of course, President Bone Spurs wouldn't know much about either.
Featured image via screen capture