The morning news shows are always fun if you're a viewer, and always uncomfortable if your name happens to be Donald Trump.
Sunday morning was no different, as Joy Reid convened a panel on her morning show, AM Joy, to discuss the biggest story in the news — Donald Trump's striking and possibly inadvertent admission that the original story told by his son, his lawyers, and himself about the reason for the now-infamous Trump Tower meeting that took place in June 2016 was an absolute fabrication.
That meeting, long considered possibly the lynchpin of Robert Mueller's investigation into Russian interference in the 2016 presidential election, featured a cast of characters it's now hard to forget: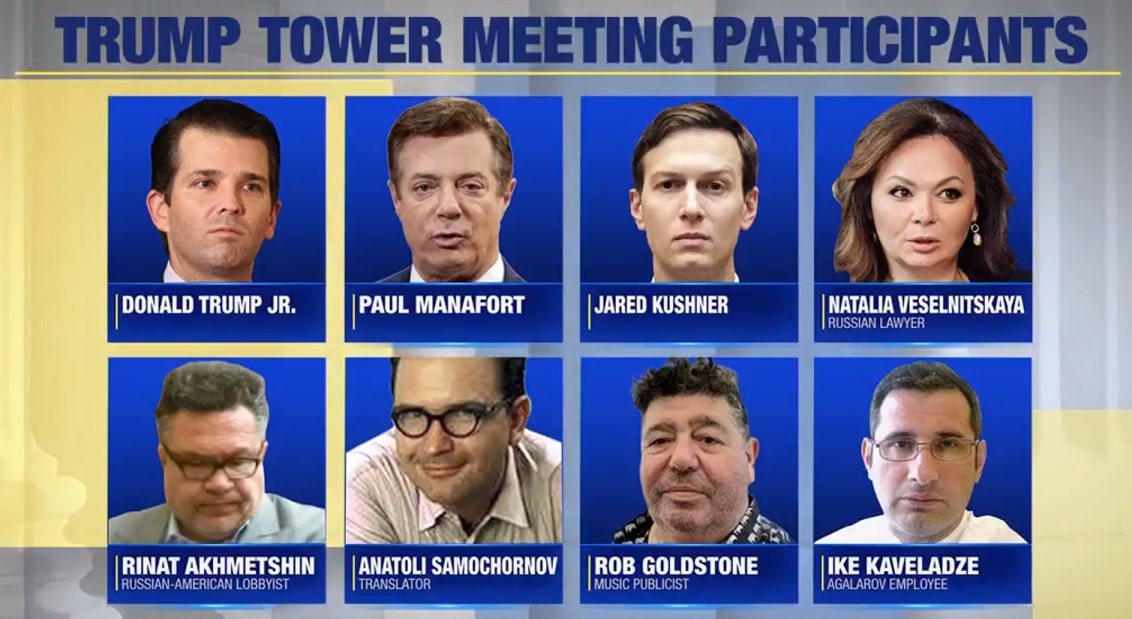 But the evolving story of what went on in that room has been the subject of far more stories than is reasonable at this point, given what the President finally admitted this morning. Originally, Trump Jr., testifying before the Senate, told investigators that it was a "short introductory meeting," in which the participants "primarily discussed a program about the adoption of Russian children that was active and popular with American families years ago."
The President, through his legal team, called that statement "short but accurate." Today's tweet, however, acknowledges that the meeting was, in fact, an attempt by Natalia Veselnitskaya to trade "dirt" on Hillary Clinton for a lifting of sanctions levied against Russia under the Magnitsky Act during Barack Obama's presidency.
This was already widely suspected — Veselnitskaya's primary job since the passage of the Magnitsky Act was to lobby American politicians to overturn it.
But with the President's Sunday admission in public, the calculus has now changed for pursuing this avenue of information. MSNBC's conservative contributor, Jennifer Rubin, weighed in when Joy asked her whether this would lead to prosecution or impeachment:
Before he goes out the door, maybe he wants to resign the presidency and have Vice President Pence pardon him because he's gonna be prosecutable as soon as he leaves office."
That's got to be terrifying for Donald Trump, and it would be nothing short of astounding if he weren't conferring with his legal team even as you're reading this to determine what his best explanation for the tweet should be.
Watch the exchange here:
Featured image via screen capture