According to an explosive report from NBC News, Judge Brett Kavanaugh was personally in contact with some old friends from school both on the phone and via text message attempting to get stories straight regarding the accusations from Deborah Ramirez, the second woman to publicly accuse Kavanaugh of sexual misconduct.
What's more, that contact took place prior to the story in the New Yorker that made the accusation public for the first time.
A woman named Kerry Berchem, who attended Yale with both Kavanaugh and Ramirez, exchanged texts with another friend, Karen Yarasavage, suggesting that Kavanaugh had been in contact with her and asked her to publicly defend his name. Both Berchem and Yarasavage were friends with the future nominee while at the Ivy League school.
Berchem says she had difficulty in getting the texts into the hands of FBI field agents.
In the messages that NBC News obtained, there is evidence that Kavanaugh was far more acquainted with Ramirez than he had at any point let on, even under oath, and that evidence from the time of their last contact — at a wedding a decade after the same-year students graduated — shows she was extremely uncomfortable around him.
NBC reached out to Berchem, who is a partner at a law firm, and she issued a statement which read in part,
I have no direct or indirect knowledge about any of the allegations against him. However, I am in receipt of text messages from a mutual friend of both Debbie and mine that raise questions related to the allegations. I have not drawn any conclusions as to what the texts may mean or may not mean but I do believe they merit investigation by the FBI and the Senate."
After being unable to quickly reach the FBI, Berchem contacted Senator Richard Blumenthal, a Democrat on the Judiciary Committee, who took up her case. A spokeswoman for the Senator told NBC:
We heard from Kerry late on Thursday and submitted her summary to the Judiciary Committee early Friday. After we were made to jump through several hoops that delayed our moving forward, it became clear that the majority Committee staff had not turned this summary over to the FBI and, in fact, had no intention of turning it over to the FBI. With our assistance, Kerry submitted her summary to the FBI herself."
The texts also revealed that Kavanaugh had reached out in order to obtain a photo which depicted both he and Ramirez smiling, although what that might have proved is unclear, as it was taken at a wedding, where everyone smiles for the camera unless they want to ruin the wedding day for the happy couple.
This is the photo he obtained a copy of, which NBC also got from Berchem: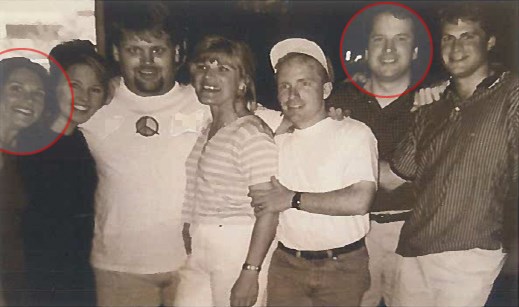 Perhaps worst of all for Kavanaugh in this news is that the texts show he or one of his associates "may have initiated an anticipatory narrative" — tried to get out in front of the accusation — as early as July. That would mean his sworn testimony before the Judiciary On September 27th that the first he heard of the Ramirez case was "in the New Yorker story" would be considered felony perjury.
That gives House Democrats — who gained subpoena power in January — plenty to investigate about the newly-seated Justice.
Featured image via Wikimedia Commons