Ivanka Trump inherited a lot of things from her daddy, Donald Trump and pretty much none of them are good. She certainly has his arrogant ignorance, resulting in her walking around as though she knows everything when she, in fact, knows absolutely nothing, leading to her often being ignored by anyone of any consequences. She also inherited his ability to interject herself in virtually any situation, regardless of whether she has any business being there or not. And let us all not forget her striking ability to take a plethora of vacations on the taxpayer's dime just like daddy dearest.
But after a tweet this morning that was quickly deleted in shame, Twitter users have noticed that Ivanka certainly didn't dodge the bullet when it came to inheriting her father's lackluster spelling skills.
Ivanka took to her daddy's favorite social media platform to congratulate conservative Boris Johnson on becoming the United Kingdom's newest prime minister after the Theresa May debacle. But in the process of patting Johnson on the back for his win, Ivanka made a classic Donald Trump mistake and misspelled the name of the country that Boris would soon be leading.
"Congratulations @BorisJohnson on becoming the next Prime Minister of the United Kingston," Ivanka's since-deleted tweet read — which quickly reminded the Twitter-sphere of her father's "Prince of Whales" mishap that took place not long ago.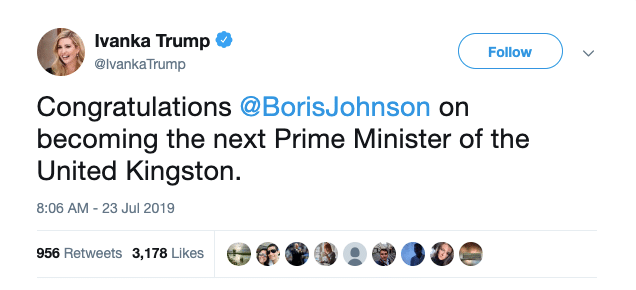 Of course, Twitter users wasted absolutely no time in giving her a proper dragging for her grammatical misfortune:
United what? https://t.co/OWvvdjZwRm

— Candace Amos (@CandaceAmos) July 23, 2019
Is the United Kingston next to Whales?

— RichieFed 🏳️‍🌈🇮🇹🇺🇸 (@RichieFed) July 23, 2019
United Kingston? Bahahaha

— . (@BatFerret) July 23, 2019
😂🤣😂 I'm 14 and can spell better than you . United Kingston 🤣😂🤣

— KidsUnite2020 (@KidsUnite2020) July 23, 2019
I see you have your daddy's spelling skills! Is there anyone in this family who can form a sentence without spelling errors??? Anyone??? Barron???

— kittyknows (@wachit) July 23, 2019
Is the United Kingston the place where you operate your sweatshops, you fraudulent shanda spawn of the most racist pos to squat in the White House?

— Lesley Abravanel (@lesleyabravanel) July 23, 2019
the illiterate buffoon doesn't fall far from the illiterate buffoon tree

— Jeff Tiedrich (@itsJeffTiedrich) July 23, 2019
An adult should be limiting your screen time.

— Theo (@tprstly) July 23, 2019

Your daddy should have warned you, Ivanka — tweets can be deleted but screenshots last forever, sweetie.
Featured image via DC Tribune Gallery 
Like what you see here? Join the discussion on Facebook over at Americans For Sanity!