Thanks to Donald Trump and the majority of rape apologists and misogynists in the Republican Party, a man who was accused of sexual assault by multiple women has been confirmed as a Supreme Court Justice. And it should be no surprise that one of the driving forces of this was spineless Senate Majority Leader Mitch McConnell. However, while McConnell may be an absolute disgrace to humanity and think nothing's wrong with having an alleged rapist on the Supreme Court, his own family feels VERY differently about this.
McConnell has recently been publicly humiliated by the opposing views of his family members, which are far more progressive than one might have thought. It turns out, McConnell's family was very much against Kavanaugh's confirmation, and McConnell's own daughter, Porter, went off on the GOP and accused them of "misogyny." Porter, who has distanced herself from her father on Twitter by stating that her "views are my own" in her profile, retweeted a post that said:
Irony is dead: Moments after Trump discussed the importance of due process vis-á-vis Kavanaugh, emphasizing that people should be presumed innocent until proven guilty, the crowd in Mississippi chanted 'lock her up' about Hillary Clinton."
Below that post, she wrote, "That ain't irony, it's misogyny."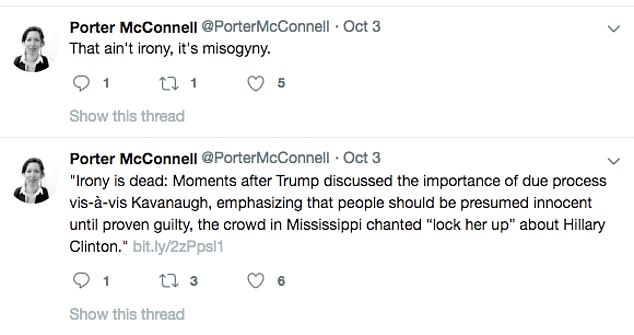 Porter, who is the Take On Wall Street campaign director at DC-based non-profit group Americans for Financial Reform, has also retweeted posts from standwithblaseyford.com and attacked Kavanaugh directly. Bringing awareness to the allegations, Porter said:
What high schooler schedules a kegger, or pencils in an assault?'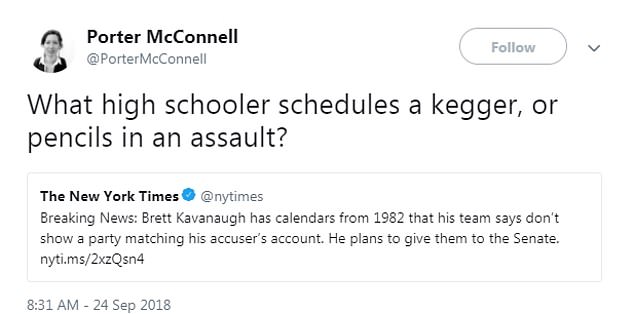 One of McConnell's sons-in-law also disagrees with his political stance. Richard Jerram, the husband of McConnell's daughter Claire, has publicly accused Kavanaugh of perjury on Facebook:
Very likely he believes he is innocent because he has no actual recollection of such a (to him) minor thing."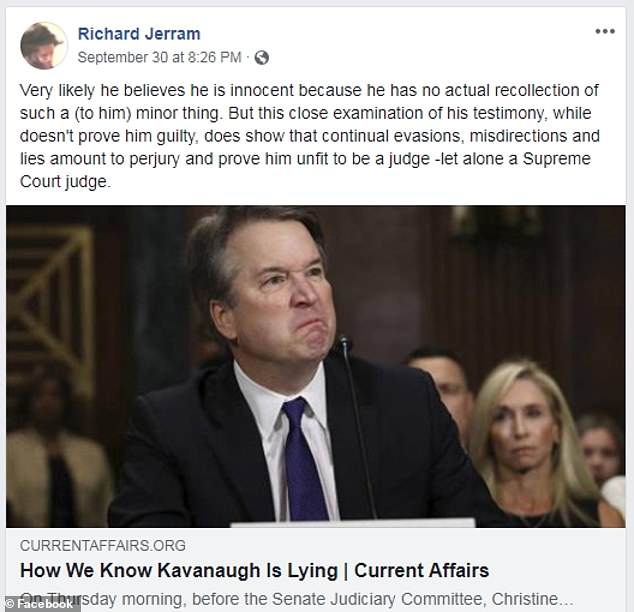 McConnell truly deserves to be shamed for the monster he allowed to become a Supreme Court Justice. Let's just say that the holidays in the McConnell house are going to be very, very awkward.
Featured image via screen capture