Lawmakers in our nation's capital have got to be getting sick by now of seeing messages sent to them via billboard, group protest, restaurant invasion, and boycotts. The simple solution, of course, would be to stop being assholes. But let's face it — the people who get the most public hate are the ones who just don't care what the public thinks.
Example number one: Mitch McConnell. The Senate Majority Leader is a grade-A, blue ribbon, dyed-in-the-wool douchebag, and the perpetual smirk he wears to hearings, town halls, and official votes on the floor of the Senate is legendarily antisocial. I imagine even Donald Trump aspires to give less of a shit what anyone thinks about him than Mitch does, and that's some measure.
Haters gonna hate, though, and I can't think of a single person who doesn't hate Mitch McConnell. That's probably why activist Claude Taylor's Mad Dog Political Action Committee just put up another billboard on Kentucky's Interstate 65, and this time Mitch might actually get a little bit offended.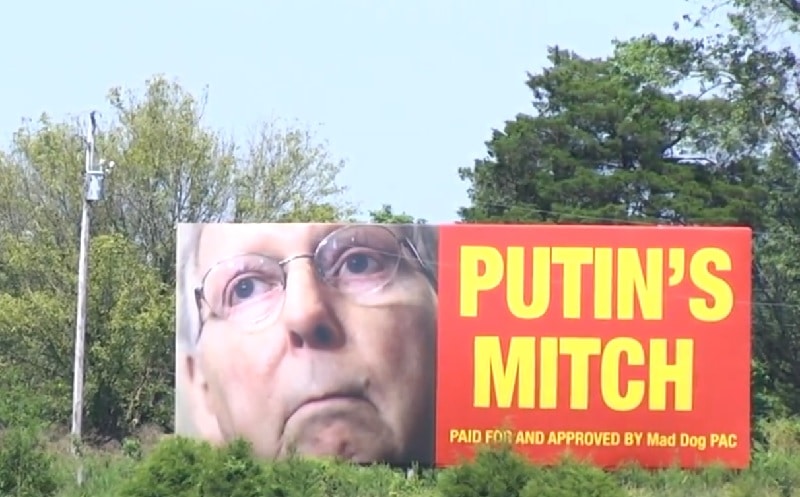 Taylor says the billboard is intended to raise awareness of McConnell's connections to Russia — the Majority Leader was the primary champion of legislation to have sanctions lifted from a Russian oligarch named Oleg Deripaska, who in turn invested in Kentucky's biggest new aluminum rolling mill in four decades. Deripaska, along with his Rusal (Russia's biggest aluminum manufacturer) business partner Len Blavatnik, has been at the center of a variety of independent investigations into campaign money given to McConnell, Senate Judiciary Chair Lindsey Graham, Florida Senator Marco Rubio, and other prominent Republicans.
Mitch, however, is the one that keeps getting trolled, despite being only one of a handful of Republican traitors who took dark money from the Russians connected to the 2016 election disaster. He's just so easy to make fun of, though, and the rhyming name — well, that's his own fault. He could go by Mitchell, and make anyone trying to say "Bitchell" do all the work selling it.
Featured image via screen capture
Like what you see here? Join the discussion on Facebook over at Americans For Sanity!