Donald Trump's entire team is unraveling before midterm elections as the pressure builds and the Republican Party needs to face the fact that they're in big trouble tomorrow. Over the last few days, we've seen the president and his closest minions go off the rails and barely be able to hold it together — one of the most notable being Kellyanne Conway.
Recently, Conway raised eyebrows by going off on an anti-Democrat tangent during an interview and bringing Hillary Clinton into it, even though Clinton has nothing to do with the midterms. In her rant, Conway ended up calling Clinton "the queen of abortion", much to everyone's surprise and confusion.
Several times during Conway's career, she's said some really ridiculous nonsense whenever the pressure becomes too much for her. One such moment that raised questions about Conway's own mental stability was what happened earlier this year at millennial panel Generation Next: A White House Forum, when Conway was supposed to talk about the opioid crisis and instead gave some absolutely terrible advice to America's youth. Conway first started out by talking about fentanyl:
It has 50 times the potency of heroin, 100 times the potency of morphine. Folks are reading the [nutrition] labels, they won't put any sugar in their body, they don't eat carbs anymore, and they're very very fastidious about what goes into their body and then you buy a street drug for five or ten dollars, it's laced with fentanyl, and that's it."
At first this made a little bit of sense, but then this happened:
So I guess my short advice [to millennials] is, as somebody double your age: Eat the ice cream. Have the French fry. Don't buy the street drug. Believe me, it all works out."
We should mention that Conway is Trump's opioid epidemic chief — and in this moment she was actually proposing junk food as a solution to the opioid epidemic! Once again, the Trump administration proves to be a danger to this country. Watch the spectacle below:
Of course, whenever Conway says something stupid, America doesn't hesitate to tell her: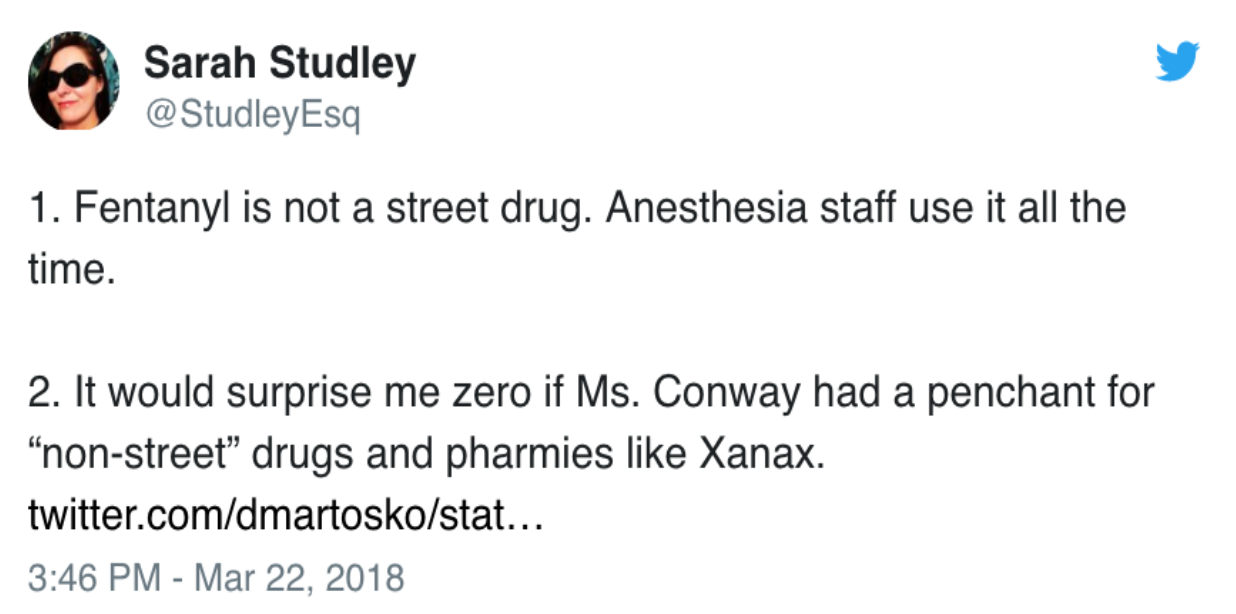 Let this be a reminder that no one on Trump's team is fit to serve in their positions and tomorrow we are in a powerful position to overturn Congress and get these idiots out of the White House.
Featured image via screen capture