Roger Stone, ever the conniving political operative that he is, quickly issued an apology to the federal judge presiding over his case, Amy Berman Jackson, after posting a photo on Instagram that was keenly understood to be a threat against her — it depicted her face with the crosshairs of a gun scope near it — along with an inflammatory caption about the "Deep State" and a hashtag that indicated he felt he would not get a fair trial.
Today it looks as though Stone's apology was too little, too late for Judge Berman Jackson, who issued her own statement — and hers carries legal weight. Atlantic reporter Natasha Bertrand got her hands on an early filing from Tuesday's court business, which shows that the judge is not amused:
Oh boy. Judge Amy Berman Jackson doesn't seem happy with Roger Stone. pic.twitter.com/jCS7QJ2X2T

— Natasha Bertrand (@NatashaBertrand) February 19, 2019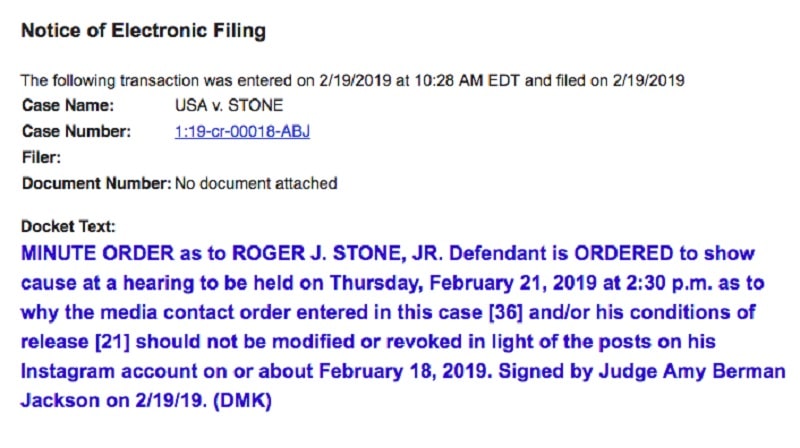 That's exactly what Stone was trying to avoid with his apology. But the fact is, sometimes a defendant's actions, coupled with the history of their behavior if they're a public figure, serve as more of a bellwether for contrition than a simple, legally sterile apology.
In other words, you can't be someone famous for punching people in the face, then apologize after punching someone really important in the face and expect to be taken seriously.
Judge Berman Jackson's order that Stone appear at a Thursday hearing means that he will have to prove just how sorry he is, or face the consequences of violating the media gag order the judge imposed — or possibly even lose his right to bail, which would mean that like Paul Manafort, he would be forced to sit in jail as he awaits his trial for his role in the scheme to assist Donald Trump in getting elected using information gleaned from Russian hackers and disseminated through WikiLeaks, the former "transparency" outlet that turned out to be nothing more than an amplifier for the Kremlin.
Not a smart move, Roger.
Featured image via screen capture