Now that Donald Trump has passed the 7,500-lie mark, according to the Washington Post Fact Checker that's been keeping track, it's easy to forget that there was a time when we were surprised by all of this, perhaps even horrified to find out that a President would openly lie at all, let alone at a pace of more than 10 lies a day on average.
But America is now at the point where Trump is actually shouting his lies at us, angry that they're no longer automatically accepted, and we here at DC Tribune think the past is prologue as to why he might be melting down over losing his magic powers: He didn't realize he'd have to convince more people than just the ones predisposed to vote for him.
Take the conversation that Jared Kushner, who at one point was the publisher of the New York Observer, had with the woman who was his lead editor at the paper, Elizabeth Spiers.
A right-wing blogger had taken exception to Ms. Spiers calling Donald Trump a liar, and on social media, she gave an anecdote from her time at the Observer as an example for him as to why she might use the word "liar" for the President: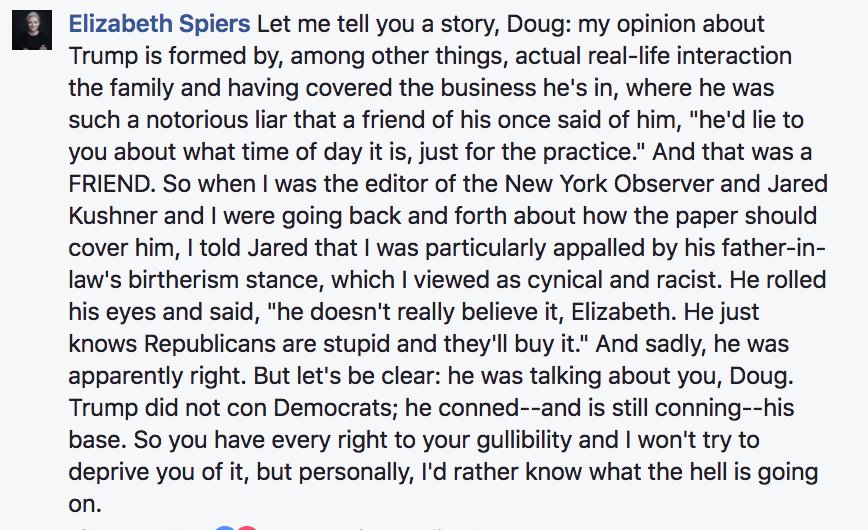 To recap there, that's Spiers telling Kushner that she was "appalled" by Trump's racist birtherism, which you'll recall was the rampant speculation among racists who hated Barack Obama that his birth certificate was forged and that he was not actually born in the United States.
The President's own son-in-law then admits to his former editor that Trump doesn't actually believe the things he himself is saying, but that he says them because he knows the people he's trying to fool will be fooled.
He just knows Republicans are stupid and they'll buy it."
Unfortunately, Republicans are so committed at this point that if Trump did lie about the time of day, they would tear apart anyone who tried to get them to look at a clock.
Featured image via screen capture
Like what you see here? Join the discussion on Facebook over at Americans For Sanity!