Fox News is about to suffer several new departures due to unhappy employees who don't like the pro-Trump direction that the network has been going in.
Recently, Fox News' foreign correspondent Conor Powell announced his resignation in a mysterious Facebook post, leaving many questions unanswered. He also asked his friends if there were any positions in journalism open, as he was leaving the network without another job in line. Powell said:
After nearly 9 years I have decided to resign from Fox News. Those of you who have spoken to me in recent months, you will understand why I am leaving FNC. To my many friends at the channel I wish you the best of luck. If anyone knows of any jobs in media and journalism please contact me. Atia, Arian and I will be back in the USA in the coming days."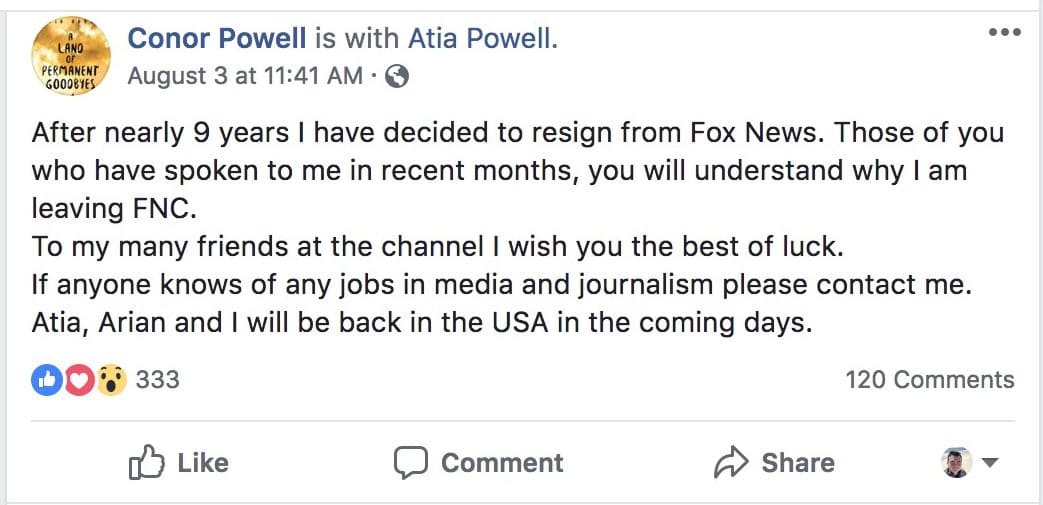 While Powell's post is cryptic, more information from other sources has been released. The Wrap reported that someone familiar with Powell's departure stated that the reporter was "uncomfortable with the direction of the news organization in recent months. Fewer news shows. More opinion shows. Less resources for reporters to report." This source also added that Powell was far from alone. They said:
Lots of reporters are very unhappy with directions of FNC right now."
But the fact that Powell asked for job leads kind of says it all — even with nothing lined up, the reporter still had to sign off from Fox for good.
It's not hard to see why reporters who actually care about the future of journalism and doing their jobs ethically would be terrified about what's happened to Fox News during Trump's presidency. Not to mention, the conservative network has suffered several high profile corruption and sex scandals. It's no longer a network that any self-respecting journalist can be proud of having on their résumé. It seems that Powell is just the first of many reporters that will be making their exit soon.
Featured image via screen capture