We think we've finally sorted out why Sarah Sanders and the Trump White House have narrowed the number of official press briefings down so far, and why news stations are increasingly refusing to cover them when she does decide to grace us with her presence.
During the November press briefing with Sarah Huckabee Sanders — one of only two between the end of October and today — it took almost no time at all if you were watching cable news to notice that MSNBC wasn't airing the press pool Q&A live. MSNBC is developing a pattern of not giving live airtime to what often turns out to be a repetition of lies, denials, or even new falsehoods intended to deceive the American public about the activities and policies of this administration.
But if you were flipping channels trying to find it after discovering that your favorite station wasn't carrying it — we don't know, you might have some weird fetish for watching people lie — you would have found that although CNN was airing the briefing, they were using a graphic that would make the Press Secretary's head explode if she'd seen it on a monitor.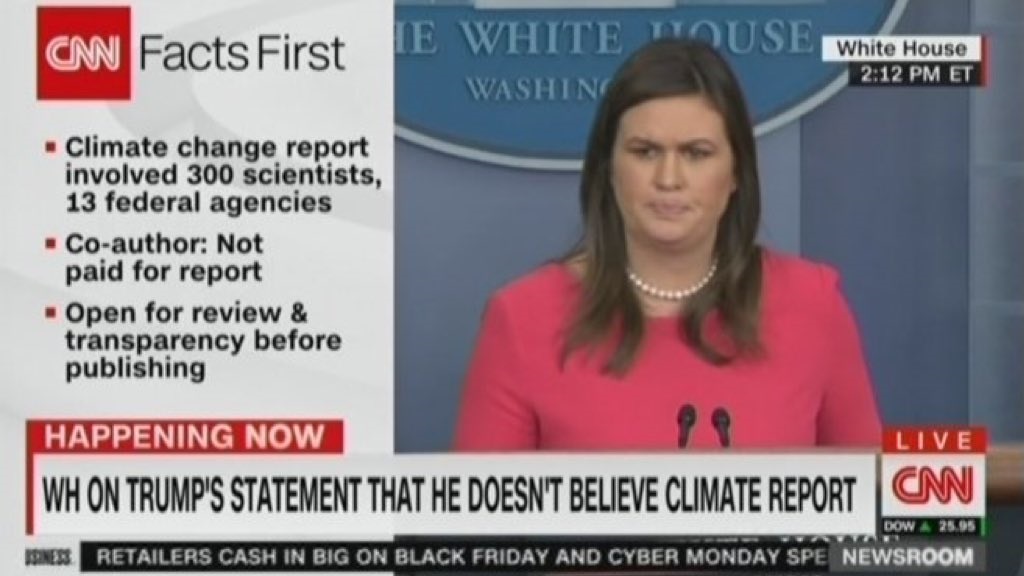 Using a header that said "Facts First," CNN aired the truth behind Sanders' ongoing statements as she made them during the briefing. In the still seen here, Sanders had just been asked about the administration's climate assessment that was just released. Reminding her that Trump had "essentially said he didn't believe it," a reporter asked whether Trump doesn't feel it's necessary for the United States to lead the world in addressing the perils of climate change. Sanders, of course, dodged:
You have to look at the fact this report is based on the most extreme modeled scenario which contradicts long-established trends. Modeling the climate is an extremely complicated science that is never exact."
But simultaneously, the CNN graphic informed viewers that the climate report included input from hundreds of scientists and more than a dozen federal agencies — and that not only was no one paid in the creation of the report, negating the argument that casting climate change in any particular light would enrich the person making the claims, but that it was made available to public input as well prior to its release.
It's refreshing to see not just MSNBC being more responsible in not advancing the President's propaganda, but CNN airing real-time fact checks as well.
Let's hope they keep it up, because if this is what's keeping the White House from holding more press briefings, we definitely would prefer this to Sanders' lies.
Featured image via screen capture