Donald Trump has now become infamous for bringing out the absolute worst in humanity. We've seen this in not only the way he's given white supremacists a voice like no other, but in the way his rabid fanbase responds whenever the president encourages violence and hate. Time and time again, they've proven to be the worst of America — just like their POTUS.
Nothing made this clear like the way Trump has busied himself attacking late John McCain. It has now been months since McCain's death, and the president still has not let him rest in peace and dragged his family along this painful ride, not even giving them time to mourn.
Cindy McCain has recently come forward to expose just how dangerous and painful Trump's attacks have been. Cindy revealed that she has not only had to deal with Trump's attacks but his supporters as well. She stated that she and her family have been bombarded with cruel messages, one of which was so terrible she had to share it on Twitter. The message was about her late husband and daughter Meghan and came just as Trump was attacking her war hero husband yet again.
The message was from a user named Tiffany Nicole read: "Your husband was a traitorous piece of warmongering s*** and I'm glad he's dead. Hope your Mrs. Piggy looking daughter chokes to death on the next burger she stuffs down her fat neck, too, c***." McCain shared the shocking message and captioned it:
I want to make sure all of you could see how kind and loving a stranger can be. I'm posting her note for her family and friends could see."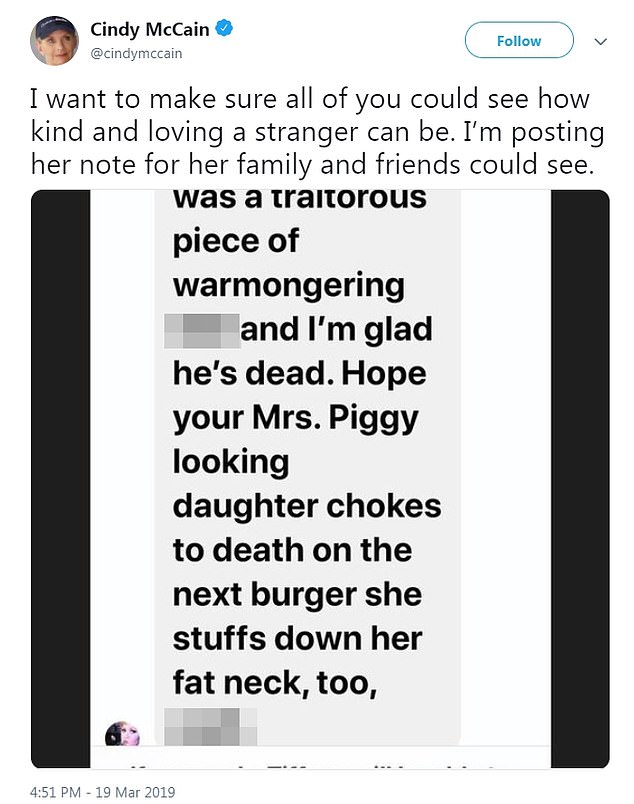 Cindy posted this as Trump was well into his fourth day of tearing into McCain. It is unfathomable that the mourning family of a war hero should have to deal with attacks like this — it's even worse that it all started with the president.
Featured image via screen capture