Virginia Governor Ralph Northam is in the news for a racist photo in his 1984 medical school yearbook in which one person appears in "blackface" and another stands beside him in a full KKK costume, complete with hood. It's an inexplicable photo to have appeared in any kind of school memorabilia — it's not like it was 1954; it was already considered really, really bad to be wearing either of those things at the time the photo was taken.
Democrats have, appropriately, called for the Governor to resign, and although that situation is ongoing, it did spark a discussion on social media about the fact that Democrats seem to always weed out the problematic members of their own party, while Republicans — who during this entire controversy have been calling on Democrats to call on Northam to resign — not only tolerate unacceptable behavior in their own party, but welcome it.
After all, not only has Donald Trump praised alt-right, white nationalist, and Nazi organizers of hate events as "fine people," but Republicans in the House still refuse to kick out the openly racist white supremacist Steve King from their ranks.
We know the precedent that Republicans will hide behind is that King and Trump were just talking — making statements — and that they can be misinterpreted. But what about actual photos of their own members in racist positions? Like this one of Senate Majority Leader Mitch McConnell: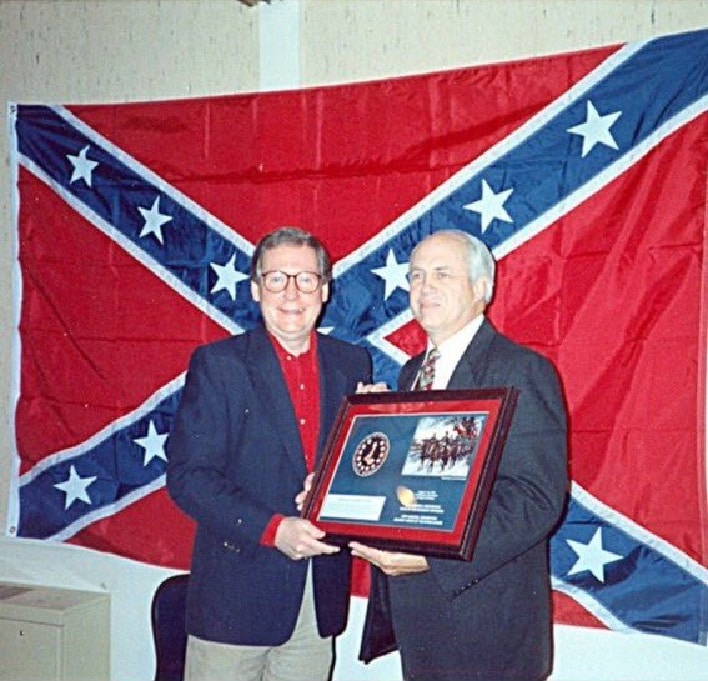 Posing and grinning like an idiot — as a full-grown adult and established lawmaker — in front of a giant emblem of slavery? This has been unacceptable for as long as the white hoods have been a symbol of hatred.
So will the Republican Party rise up and denounce McConnell over this photo, which was taken even more recently than the offensive Northam picture? This picture is from less than 30 years ago, from a meeting of the John Hunt Morgan Camp of the Sons of Confederate Veterans at Big Springs Country Club in Louisville, Kentucky. The Sons of Confederate Veterans are notorious for insisting that the Civil War was not about slavery, and for their reenactments that depict the South as the winner of that horrible conflict.
In other words, there is actual context here — I might even imagine that ol' Mitch still has whatever award it is that these racists gave him that day.
Unfortunately, I don't expect that Republicans will ever do the right thing.
Featured image via screen capture