Thanks to Donald Trump's horrific presidency and one of his biggest recent mistakes — his disrespect of late Republican Senator John McCain — Trump has made sure that he and everyone associated with him will forever remain rejects during this painful time in American history.
Over the past few days, the country paid homage to McCain during his memorial service. Everyone except Trump, that is. Thanks to the president's unhinged nature and the insults he hurled at McCain over the last few years, Trump was banned from McCain's funeral. And yet, the president continued to be petty as ever by refusing to call McCain a "hero" or keep the flag at the White House half-staff to honor the GOP Senator. This stood in stark contrast to the behavior of former presidents, like George W. Bush, Bill Clinton, and Barack Obama. Not only were these men present at the services, but Bush and Obama both gave moving eulogies.
These events have left First Lady Melania Trump more humiliated by her husband than ever before, and she's even spoken about how ashamed she is that her family is being excluded and treated differently because of the president's unhinged behavior. But unfortunately for the First Lady, those feelings of rejection are far from over.
A day after McCain's funeral, Bush tweeted out a special First Lady quiz from the George W. Bush Presidential Center Twitter account, asking Americans to take the quiz:
Which first lady are you? Take our quiz to find out!"
Which first lady are you? Take our quiz to find out! https://t.co/I1czsPHziu

— George W. Bush Presidential Center (@TheBushCenter) September 2, 2018
There's just one little problem: A certain someone is missing from the collection of several First Ladies! Melania is nowhere to be found in the quiz's image: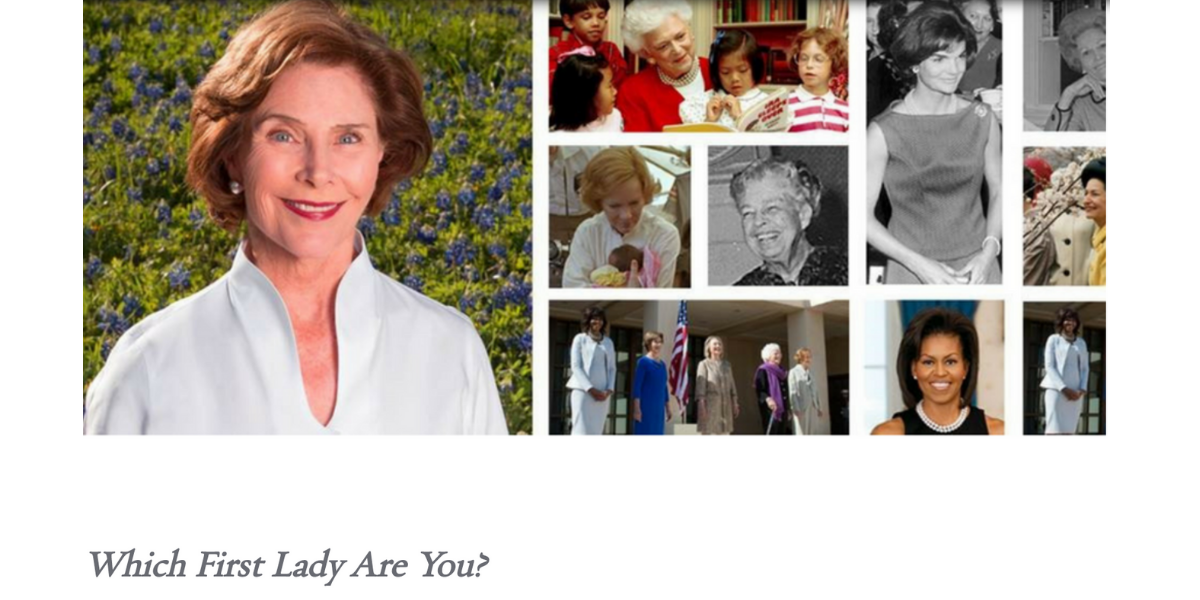 Considering how fond Bush is of former FLOTUS Michelle Obama (check them sharing this special moment at McCain's funeral), this might have been an intentional dig at Melania. One thing is for sure — Melania and her family are being alienated by America on purpose now, and she only has her husband to thank.
Featured image via screen capture