It seems to be emails that get you every time with this administration. Now copies of emails have resurfaced after a high profile Saudi entanglement involving the President's son-in-law that should have Jared Kushner sweating in his ten-thousand-dollar suit.
Robert Mueller's Special Counsel released a trove of emails in August as part of his case against former Trump campaign chairman Paul Manafort. The emails were a series of exchanges between Manafort and Kushner, sent just prior to the election. Both men have at times claimed that they held far less sway inside the Trump campaign than perhaps they had been portrayed as having, but the emails they sent back and forth show that each was lying — and that ethics had already gone out the window before the Trump administration even began.
In a stunningly blatant case of pay-for-play, Manafort emailed Kushner on November 30, 2016 to recommend that Steve Calk, the CEO of Federal Savings Bank, be given a position within the Trump administration — specifically that he should serve as the Secretary of the Army, a civilian position that reports to the Department of Defense.
Manafort even provided a list of credentials to Kushner detailing what qualifications Calk had to be nominated for the position.
The problem is, Manafort was not doing all of this on behalf of an old chum — he was holding up his end of a bargain that included a nearly $10 million loan for his own purposes, a loan that Calk himself signed off on in exchange for the Cabinet-level position.
If your brain hasn't quite caught up with that yet, that's pretty illegal, and not just on Manafort's end.
It's also a nightmare for each individual involved: Calk, regardless of his future ventures, will be known as the weekend warrior that tried to buy his way into the Pentagon. Kushner will deal with the legal and professional fallout of being exposed as an influence peddler. Manafort will likely have enough tacked on to his prison term to make whatever he gets effectively a life sentence.
But possibly the biggest blowback will be on President Trump, who has been absolutely beside himself shouting that the Manafort trial "has nothing to do with the presidency."
Uh, yeah. About that: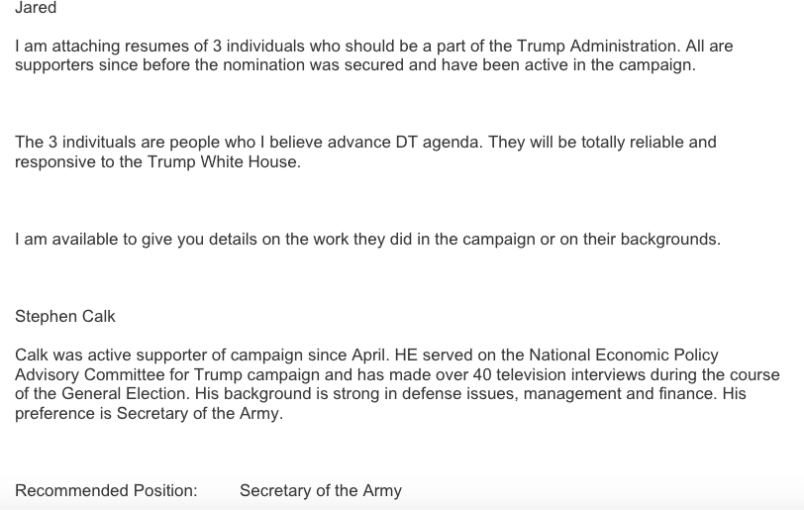 That one is from Manafort to Jared. The messages sent by Calk to support the recommendation for "perspective rolls [sic]" he might be appointed to in Trump's Cabinet are like a wishlist: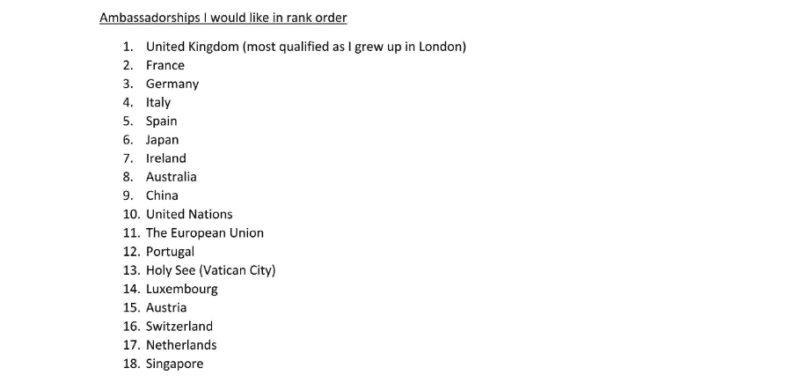 The emails between Manafort and Calk are even more damning: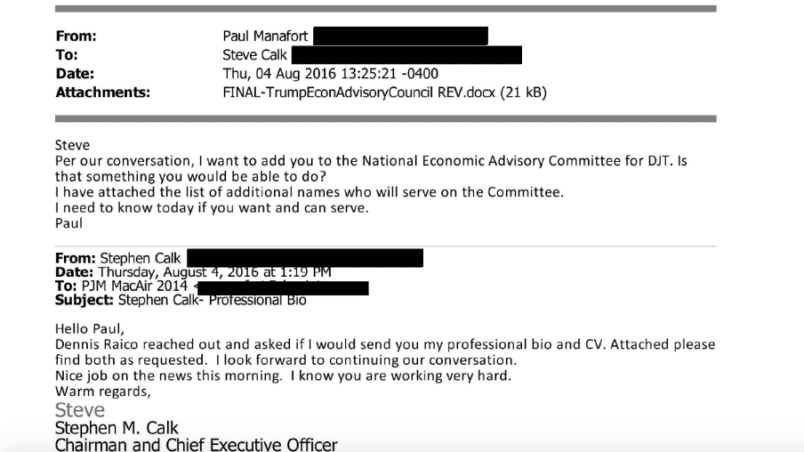 That email predates Calk's appointment to a position in the Trump campaign — one he actually got through Manafort's efforts.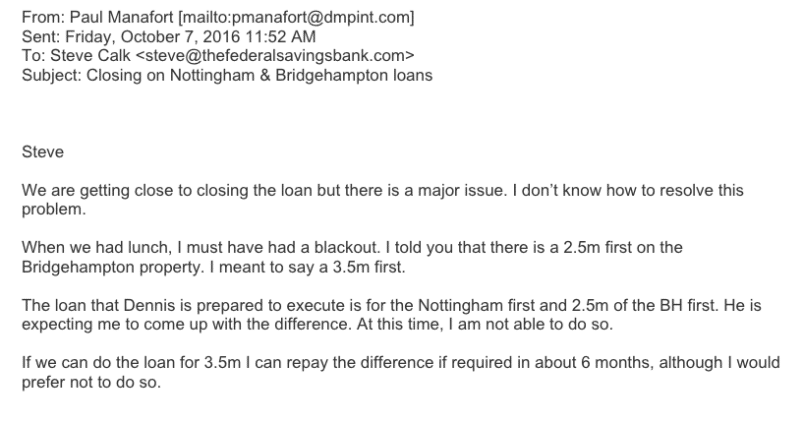 And that email shows Manafort doing what Manafort does best: Asking for more money.
But what the entire exchange shows is that not only were Manafort and Kushner each far more involved in the inner workings of the campaign and early structure of what would become the Trump administration than they've ever let on, but that Manafort's digital history isn't the only thing that Mueller's team has been digging up.
Jared may have a lot more to be worried about than getting caught skipping out on his taxes.
Featured image via screen capture