Donald Trump has been at the business of lying to literally everyone for so long that most people now gauge the truth about something he's involved in by whether he confirms or denies it — and they believe the opposite.
Unfortunately, we can only assume that's the case with the nation of Iran, who certainly follow Trump's Twitter feed and have by now seen his idiotic tweet of Top Secret US intelligence about the disaster they just had at the Imam Khomeini Space Center in Semnan Province, where a satellite they were attempting to launch exploded on the launch pad.
Previously, all that was available detailing the mishap was shown in satellite imagery from some distance, showing the pad burning and a pillar of smoke: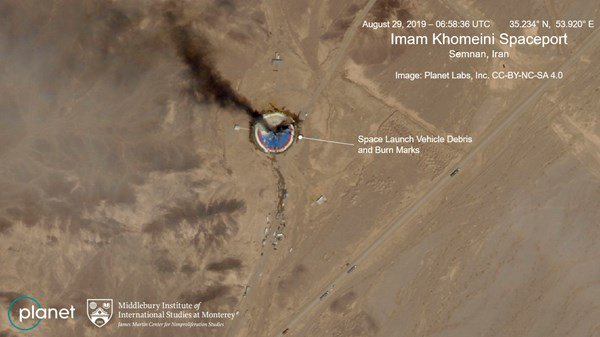 US officials distanced themselves from speculation about potential US involvement in the event, whether it was actually an accident or some kind of sabotage. Trump, however, not content to simply let protocol dictate what Iran knows about how much the US knows, needed to tweet what appears to be a photograph of Top Secret surveillance intel that sees the launch pad in excruciating detail — causing Iran to wonder anew whether they denials of US involvement are actually true.
Especially since Trump is now the one denying it.
The result? A tweet that not only alerts the government of Iran to the powerful imaging satellites that we have not only at our disposal but clearly trained on specific sites in Iran — it takes some time to re-task a satellite, so for the US to have this image means they were already aiming at it.
The United States of America was not involved in the catastrophic accident during final launch preparations for the Safir SLV Launch at Semnan Launch Site One in Iran. I wish Iran best wishes and good luck in determining what happened at Site One. pic.twitter.com/z0iDj2L0Y3

— Donald J. Trump (@realDonaldTrump) August 30, 2019
Pulling up the photo in the tweet, one can CLEARLY make out the silhouette of the person obviously taking a picture of classified intel in a room where cameras are likely not even allowed. The fact that Jared Kushner or Ivanka Trump have security clearances is terrifying enough. Let's hope our generals stop allowing Trump in the room when they discuss anything important, lest he brag about it on Twitter moments later, or the security problem we'll have is the President himself.
Featured image via screen capture
Like what you see here? Join the discussion on Facebook over at Americans For Sanity!