As we were all well aware upon waking this morning — billionaire pedophile and "former" Donald Trump pal Jeffery Epstein is dead. Dead as a doornail. Stick a fork in him, folks, he's done. You get the point.
According to a plethora of news reports Epstein was found unresponsive in his Manhattan jail cell early this morning as a result of an apparent suicide — where he was being held awaiting trial for multiple charges of sex trafficking and sexual abuse against dozens of underage girls. Staff at the Metropolitan Correctional Center attempted to revive the long-time sex offender but were unsuccessful. Epstein was eventually transported to the hospital where he would officially be pronounced dead.
But just as we expected, it doesn't seem that Donald Trump is buying the suicide story. Or, at least, he doesn't want everyone else to believe it. He would much rather you be convinced that the Clintons are behind this whole thing.
Now whether Donald wants to fess up to it or not, he and Epstein were good buddies — at least back in the day — and it's hard for him to dispute that considering there's a trove of photographic and video evidence of it that can easily be found in less than a few clicks all over the internet.
Despite said evidence, Donald Trump wants nothing more than to distance himself from the whole Epstein ordeal. Especially now that the main witness to his debauchery is currently chilling out in a body bag.
And what better way to throw the focus off of himself than to redirect it to the Clintons?
Hillary isn't even running against him anymore, yet she and her husband continue to remain one of his most favorite scapegoats — just right under the Obamas.
But since Barack Obama isn't and hasn't ever been suspected of anything illegal, he has to settle for his second choice.
And that leads us to this evening when Trump took to his Twitter account to retweet some conspiracy theorist bullshit implying that the Clintons were responsible for Epstein's death: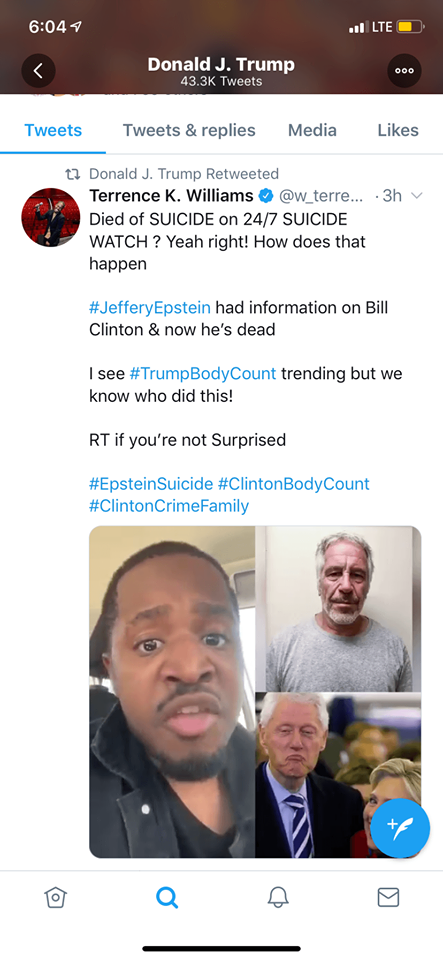 Folks, considering AG Bill Barr is responsible for the investigation into Epstein's death, there's a good chance we'll never know what exactly happened to the guy. But we can walk away from this knowing that Donald Trump is shaking in his boots, hoping that whatever evidence Epstein had died with him.
Featured image via DC Tribune Gallery 
Like what you see here? Join the discussion on Facebook over at Americans For Sanity!