If Donald Trump weren't an arrogant, racist, dumpster fire of a person who has no business anywhere near a voting booth, let alone an office you vote for, I might actually feel bad for him today. After all, everything is going absolutely sideways for him as both a regular person and as the President of the United States, and it has to be frustrating to be hated for both your insufferable nature and for your incompetent leadership.
But the thing is, even as I begin to pity him, he doubles down on both negative traits: He becomes even more insufferable and proves his incompetence beyond doubt.
It looks like most of America agrees, as well. According to a new Fox News poll out last night — although the right-wing network attempted to bury it in unrelated nonsense — Trump's disapproval is out of control.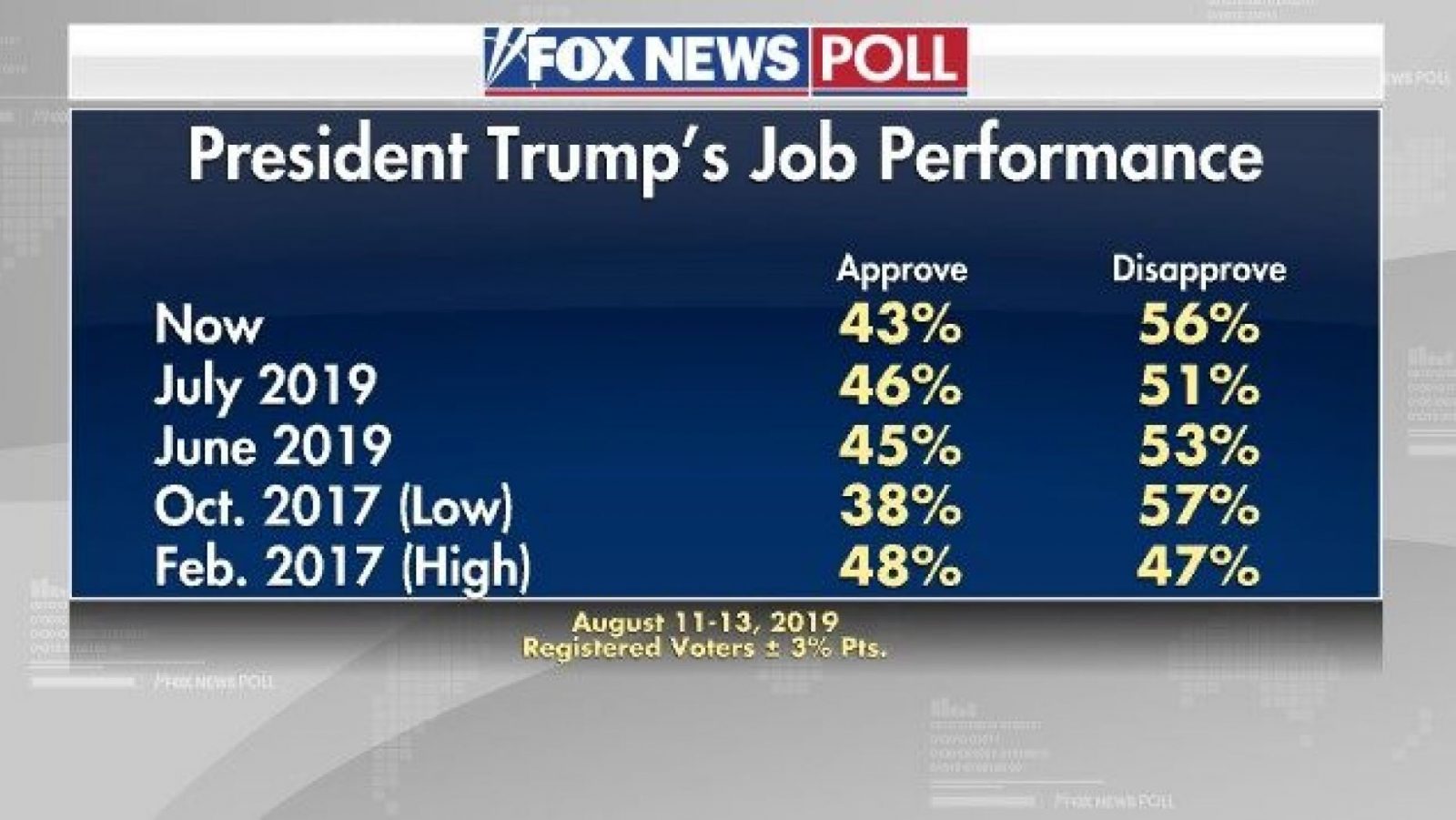 The poll shows an overall disapproval rating of 56 percent, which is up by five percent in less than a month. That number is driven by record disapproval responses from males, white males, and independents, essentially the three groups most responsible for Trump's election in the first place. Trump's ratings have dropped in tandem with the NRA's — who are experiencing net negative approval ratings for the first time in history.
Approval of the NRA even among gun-owning households is down by more than ten percent since this time last year.
Clearly, much of this stems from the recent shootings and Trump's response to them — more people now say they're unlikely to attend a large public even for fear of physical danger than the number that reported that sentiment in the days and weeks following 9/11.
So what has Trump done in response to this abysmal report? He's gone on a Twitter bender, of course. So far today he's retweeted "Diamond and Silk," Bill O'Reilly, white nationalist Laura Ingraham, a video of some elephants, more Diamond and Silk, his disgraced former campaign manager (and violent misogynist) Corey Lewandowski, Sean Hannity, more Lewandowski, more Diamond and Silk, a sorely misguided meme about Abraham Lincoln, the black shooter in Philadelphia, the Wall, the Squad, Israel, China, and a book by a guy who just eleven hours earlier said he probably wasn't going to vote for Trump in 2020 — although we doubt Donnie's seen that yet.
PHEW. It's not even noon Trump's time as this goes to press and he's deflected so many times on his racism he makes Mark Fuhrman look like an amateur.
Well, have yourself a day, Mr. President. It's only going to get worse for you from here.
Featured image via screen capture
Like what you see here? Join the discussion on Facebook over at Americans For Sanity!