In typical Trump fashion, the President expended the absolute least amount of energy possible commemorating the 17th anniversary of the September 11, 2001 attacks on the United States. He did a simple math problem in a tweet, his wife sent out a picture of themselves, and when Trump finally got to the memorial ceremony for Flight 93, the fist-pumping maniac from the tarmac when they landed couldn't have looked more bored as he waited for the cameras to be on him instead.
But many people missed his first and possibly ultimate act of laziness this morning: He just used last year's photo at the White House and pretended it was the scene on the lawn before he and Melania departed for Pennsylvania:
Departing Washington, D.C. to attend a Flight 93 September 11th Memorial Service in Shanksville, Pennsylvania with Melania. #NeverForget pic.twitter.com/O2sFUeRqeb

— Donald J. Trump (@realDonaldTrump) September 11, 2018
Here, let me zoom that in for you a little: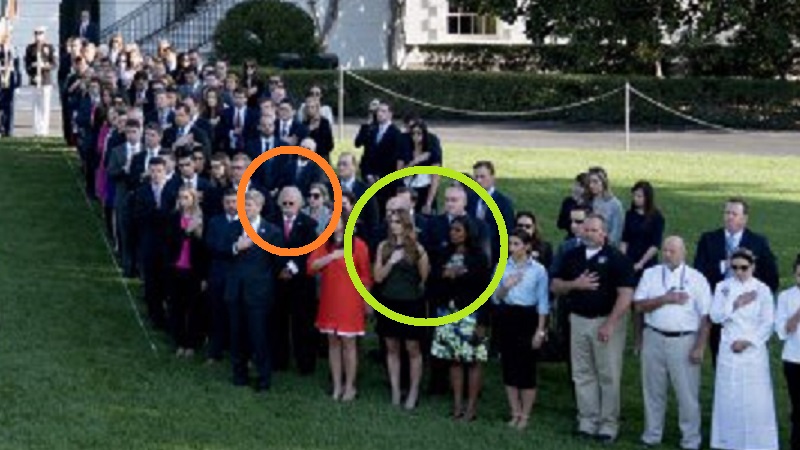 That guy right there inside the orange circle on the left is former legal counsel Ty Cobb. He's been gone from the White House since the end of May. Inside the green circle on the right, you have of course Hope Hicks, who's been gone since March 29th of this year, and Omarosa Manigault-Newman, who has been gone so long she's actually back in the news.
Also, it's pretty sunny in this photo, whereas the weather in Washington, DC right now is pretty rainy (along with the entire east coast).
So no, there's pretty much a zero percent chance this is a photo of Donald and Melania getting ready to fly to Shanksville, PA today. More disturbing still is the number of — GASP! — white people in the Trump administration in this photo who are clearly disrespecting the flag while everyone else has their hands on their hearts.
I guess lazy people learn from the best.
Featured image via screen capture