If you're a follower of DC Tribune, you know Noel Casler is the former showrunner on The Apprentice who's brought many a dark and dirty detail about Donald Trump into the public eye, including documented instances of him using racial slurs, being sexually inappropriate with women and girls, and drug use.
But Donald isn't the only Trump whose skeletons Casler has seen firsthand.
After we published a piece on internet "rumors" that Melania and her son Barron were living with her parents rather than in the White House with Donald, we tried to get to the root of some of the more interesting theories that we saw while gathering information for that article.
When one Twitter user remarked that Donald and Melania had separate bedrooms in the White House — something that was now and again known to be a fact, although the President's spokespeople only remarked that the couple kept different hours at times — "Never Trumper" Republican Rick Wilson quoted that user's tweet and commented on the rumor that Melania doesn't live there at all.
But one reply from Noel was all it took for us to fall down another rabbit hole with the First Lady:
Melania didn't live with him in Trump Tower either, she lived with her boyfriend. We had to book the transpo on 'Apprenctice' Finales and her pick-up was NOT on 5th Ave.

— NoelCaslerComedy (@CaslerNoel) September 8, 2019
Out came old stories of Melania dating a man named Hank Siemers, the head of security at Tiffany's in Trump Tower. Internet gossip columnist Perez Hilton archived a series of tweets by novelist Monica Byrne from all the way back just a few months after Trump's inauguration that told the tale: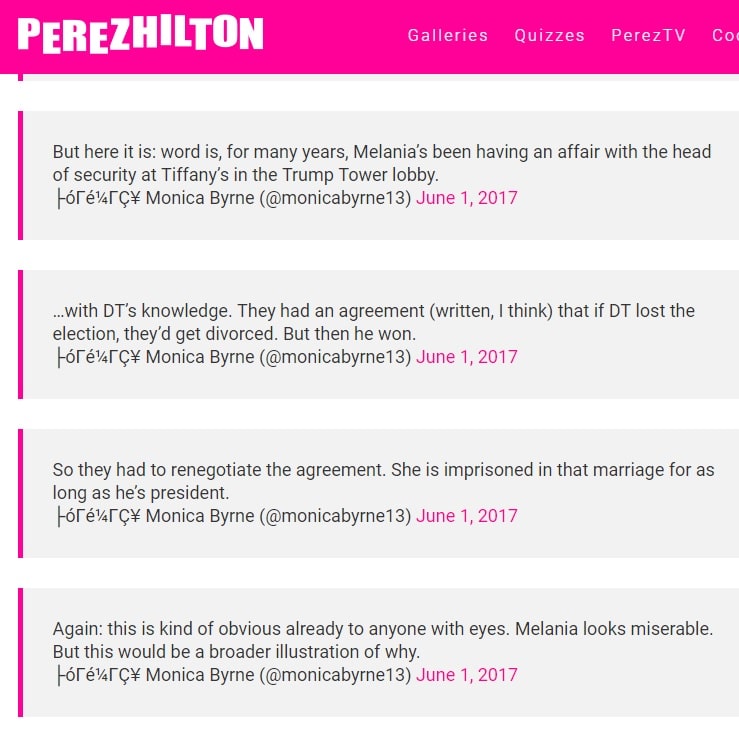 But while Perez does occasionally get things right, we're honestly more interested in Casler's seeming corroboration of the story. After all, Donald Trump immediately attacks or threatens to sue any person anywhere who says something he thinks he can cover up successfully.
Trump has never responded to Casler. Not once. Not when Casler accused him of ogling women and girls inappropriately, not when Casler said he watched Trump snorting Adderall — NEVER.
Saying nothing says almost as much as admitting to everything, Mr. President.
Featured image via screen capture
Like what you see here? Join the discussion on Facebook over at Americans For Sanity!