In a pair of bizarre Sunday morning tweets, Donald Trump proclaimed his innocence once again, this time basing his "couldn't possibly be guilty" logic on a possibly fictitious book "manuscript" by Michael Cohen that Trump keeps insisting exonerates him somehow.
The irony of saying that Cohen is a liar, then pointing to something else Cohen purportedly said that he actually agrees with as proof is almost too Trumpian to even comprehend. But beginning on Friday, Trump tweeted multiple times about a "just written" or "just released" or "brand new" manuscript of a tome by his former personal lawyer that he called a "love letter to Trump," which, if there were such a recent work by Cohen, would seem to undercut the testimony he gave to the House Oversight Committee last week.
Spoiler alert: There is no such manuscript. The publisher for Cohen's book that was planned for release last year — before he admitted his guilt about lying on Trump's behalf — says it has received nothing from Cohen, and his lawyers say no such deal is in the works, despite his refusal to assure Republicans on the Oversight Committee that he wouldn't ever write a book about all of this.
Sunday morning, Trump was so tied in knots about the whole thing that a planned two-part tweet that either he had written out or a staffer had written for him went out in the wrong order — tweeting the second half of the message first, then nearly 20 minutes later, tweeting the first half:
…said was a total lie, but Fake Media won't show it. I am an innocent man being persecuted by some very bad, conflicted & corrupt people in a Witch Hunt that is illegal & should never have been allowed to start – And only because I won the Election! Despite this, great success!

— Donald J. Trump (@realDonaldTrump) March 3, 2019
After more than two years of Presidential Harassment, the only things that have been proven is that Democrats and other broke the law. The hostile Cohen testimony, given by a liar to reduce his prison time, proved no Collusion! His just written book manuscript showed what he…..

— Donald J. Trump (@realDonaldTrump) March 3, 2019
In case you didn't catch that: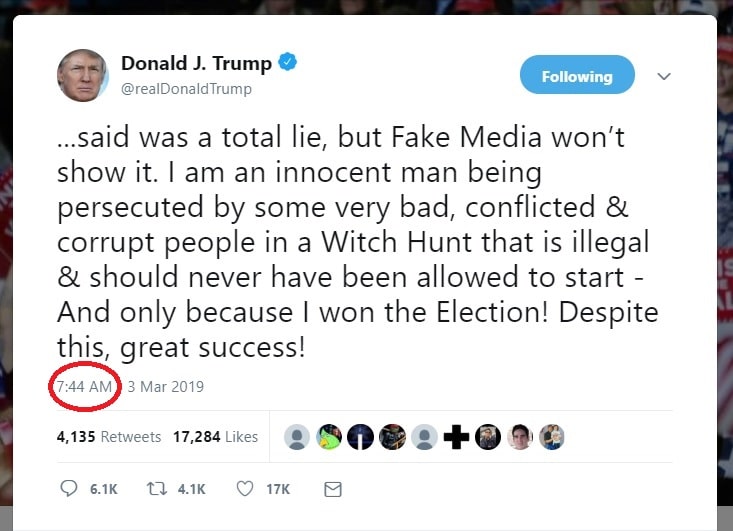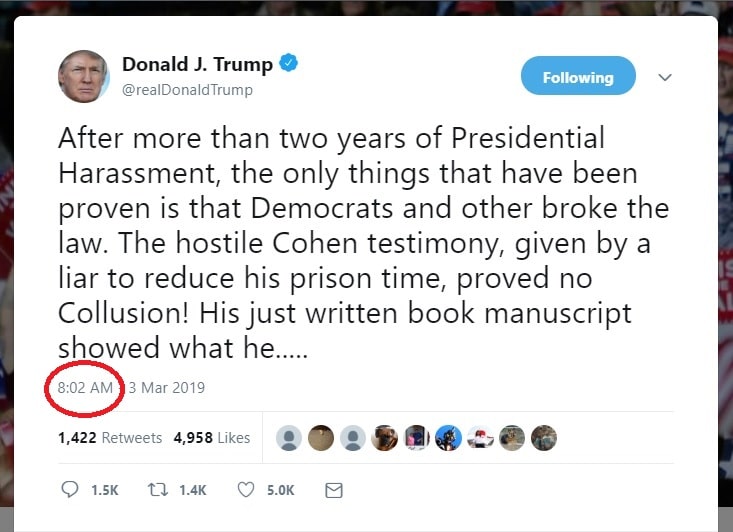 But regardless of the President's incompetence, it's the content of the message that just seems like silliness at this point. Not just the bit about Cohen's imaginary praise book, but this whole "witch hunt" thing — he's clearly beginning to believe he actually did nothing wrong. Look at the tone of his accusation:
I am an innocent man being persecuted by some very bad, conflicted & corrupt people…"
He really does have everything turned around in his head, and when this is all over, psychologists will study him for decades.
Featured image via screen capture