Donald Trump has made Americans furious with his Twitter behavior. Not only does the president disgust his constituents on a daily basis by acting like an absolute moron through his tweets, but he's actually BLOCKED voters for using their freedom of speech.
Numerous people were blocked by the President of the United States because they dared to criticize him — including some notable blocked Twitter users like model Chrissy Teigen and author Stephen King. Fortunately, a federal judge ruled that Trump's blocks were unconstitutional, as his Twitter feed counts as a public forum which "has been used in the course of the appointment of officers (including cabinet secretaries), the removal of officers and the conduct of foreign policy."
As a result, White House social media director Dan Scavino was ordered to unblock everyone, starting with the plaintiffs that the Knight First Amendment Institute represented in a social media lawsuit against Trump.
On Tuesday night, many blocks were reversed, and Knight is requesting that anyone else who was blocked by Trump to speak up. Already, people are celebrating the victory against America's most childish POTUS:
And now, they're getting their revenge:
Oh my fucking god this feels so good. pic.twitter.com/5CuwDmNnI1

— Bess Kalb (@bessbell) August 29, 2018
Jules Suzdaltsev, who was blocked for suggesting that Trump spend more time with his son, also celebrated before blocking Trump:
I've just been unblocked from @realDonaldTrump…

One year. Three months.

I'm back, baby! https://t.co/Fe4oy6iFut

— Jules Suzdaltsev (@jules_su) August 28, 2018
First order of business now that I've been #unblocked. pic.twitter.com/5iuf3jtg3N

— Jules Suzdaltsev (@jules_su) August 29, 2018
Many others rejoiced: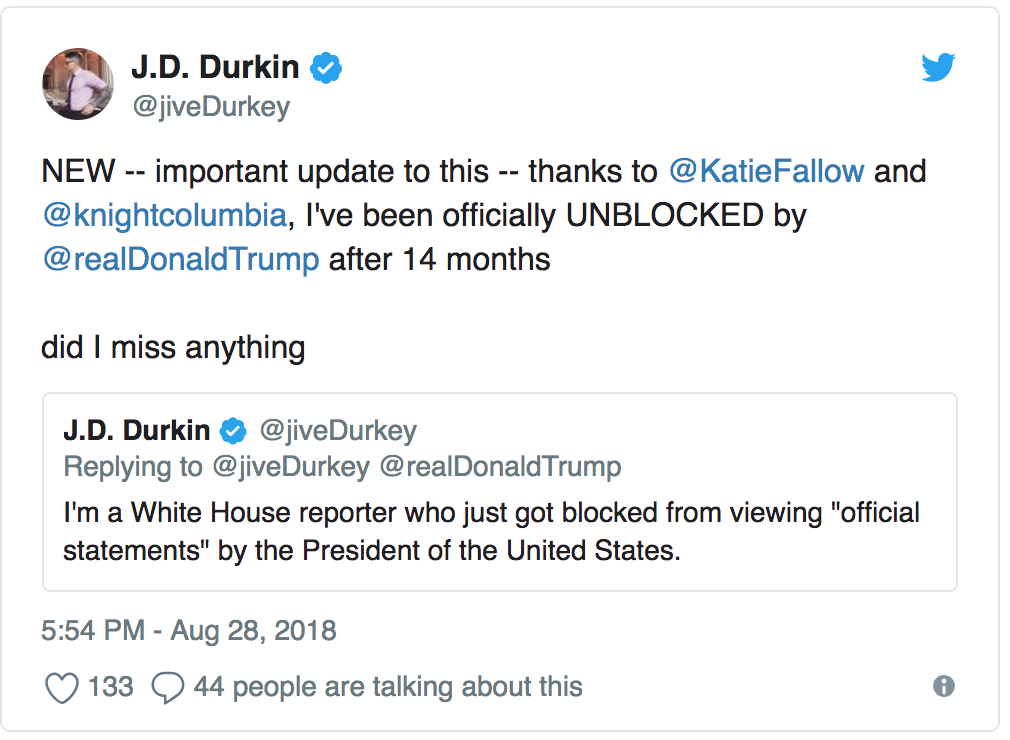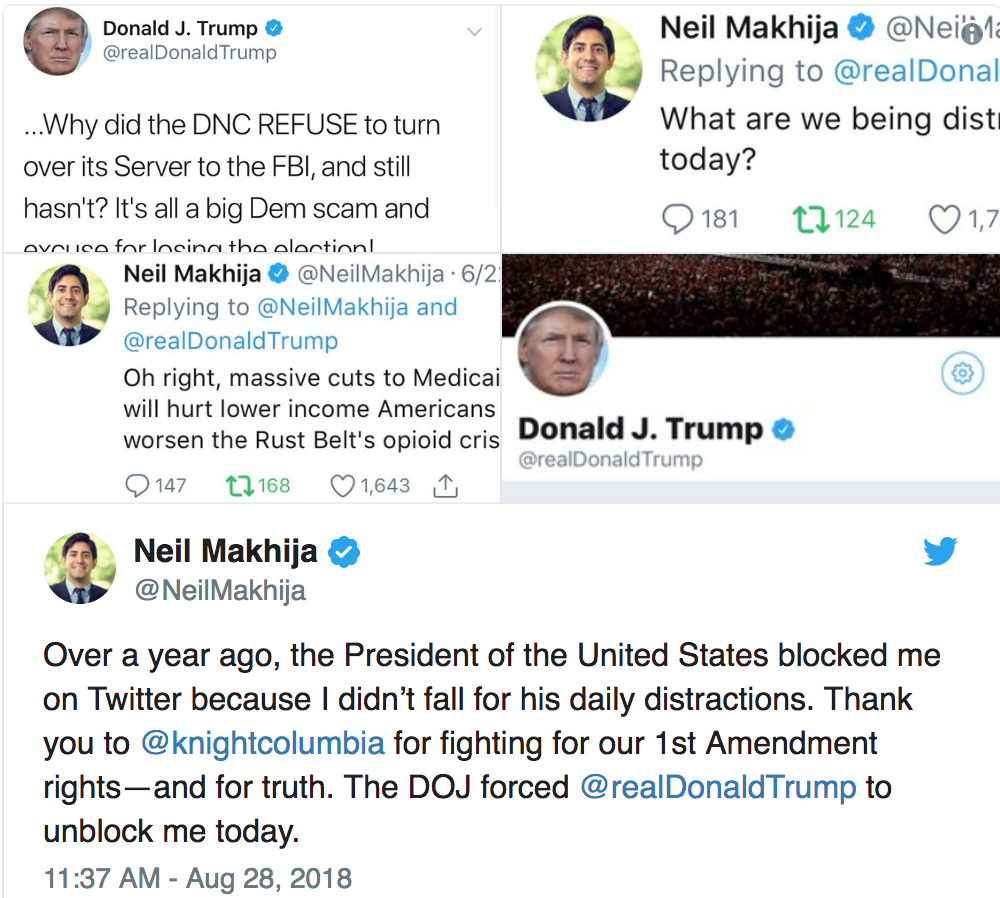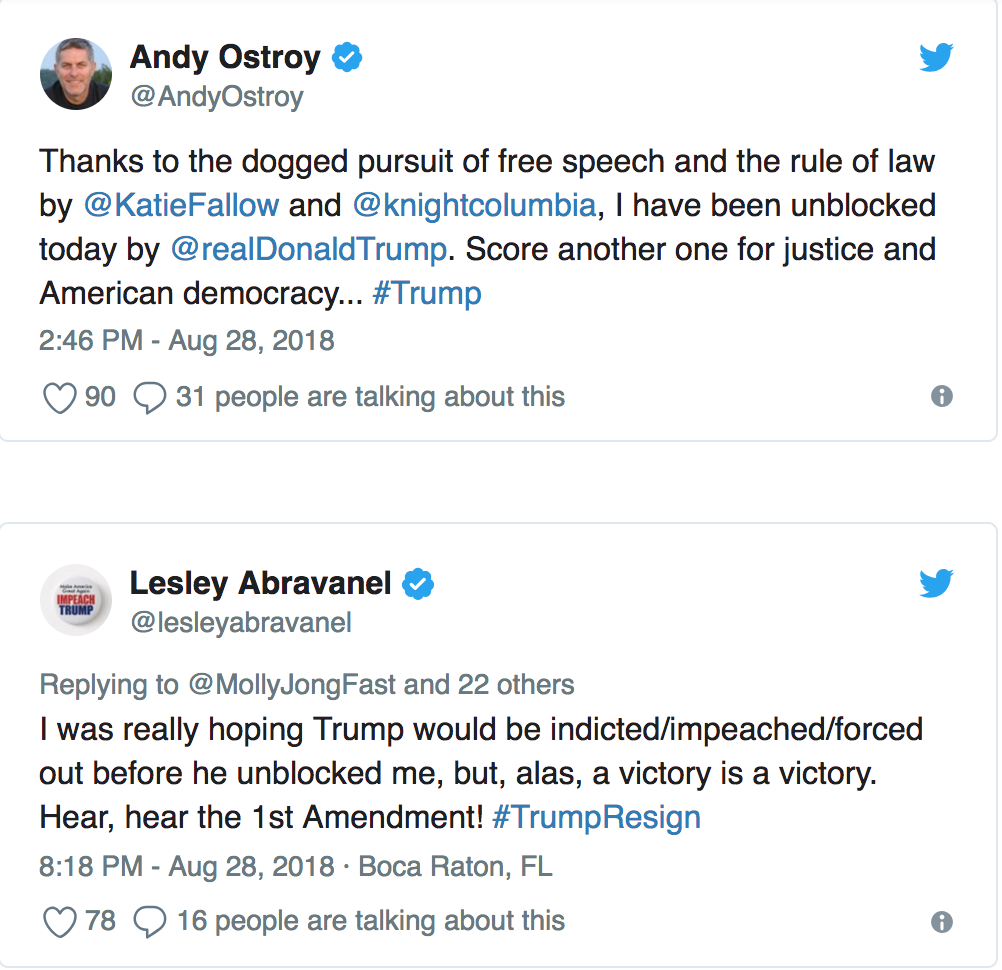 Unfortunately, some people, like known Trump nemesis Rose O'Donnell, remain blocked.
still blocked pic.twitter.com/EdFDPElvRi

— ROSIE (@Rosie) August 29, 2018
We can only imagine what O'Donnell will say to the president once he reverses that one.
Featured image via screen capture