Saturday morning, Donald Trump seemed by all measures to be trying to cement people's view of him as a racist as he went on a retweeting spree of sorts with messages from far-right extremist UK commentator Katie Hopkins, whose views on Islam and race could charitably be described as very, very hateful. Hopkins has, in the past, tweeted "Islam disgusts me." In fact, one episode in her workplace at the Mail Online saw the media outlet forced to pay £150,000 to a Muslim family she had falsely accused of ties to terrorism.
Hopkins lost her job at radio station LBC immediately after the 2017 Manchester Arena bombing during an Arianna Grande concert, when she told listeners that in regard to Islam, "we need a final solution," a phrase that was employed by Hitler to describe his extermination of Jews.
In short, Hopkins, who has said racial profiling is good and that she doesn't mind being called a racist, is a great big racist.
The problem here for Trump — and for America — isn't that Trump doesn't understand he is retweeting an account that posts non-stop assaults on nonwhite citizens of her country and our own. It's that he agrees with her enough to retweet her messages. Trump himself might not ever say he doesn't mind being called a racist, but he's on such a wavelength with Katie Hopkins that he actually thinks amplifying her message is a defense against those who would call him one.
Her message, to Trump, is reasonable. That's terrifying. She believes — and apparently he does as well — that anti-immigrant sentiment stems from a desire to "defend" what one loves, and to them, that's a country that always remains majority white.
It started with this today: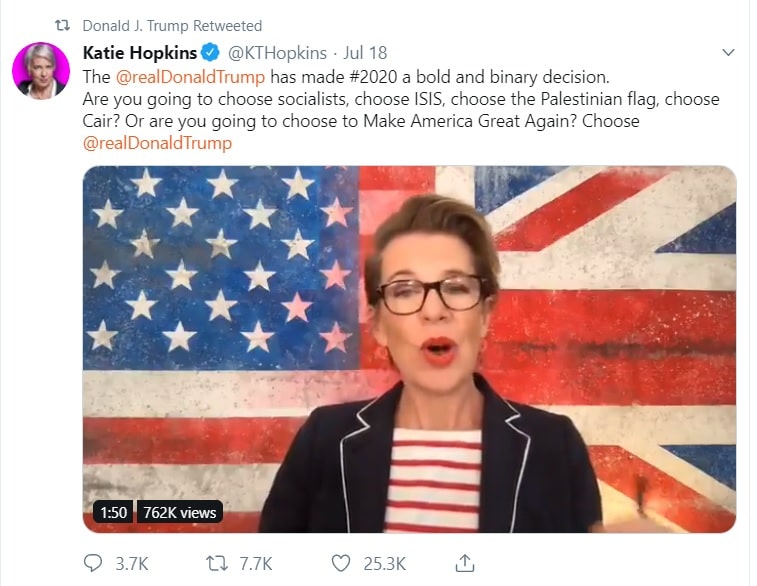 Hopkins is referencing "The Squad," of course, when she mentions socialists (Rep. AOC is self-styled as one), ISIS (Trump claims Rep. Ilhan Omar defended them), the Palestinian flag (Rep. Rashida Tlaib's parents are Palestinian immigrants, and the MAGA slogan, which America has come to understand actually means Make America White Again, perhaps a jab at Rep. Ayanna Pressley.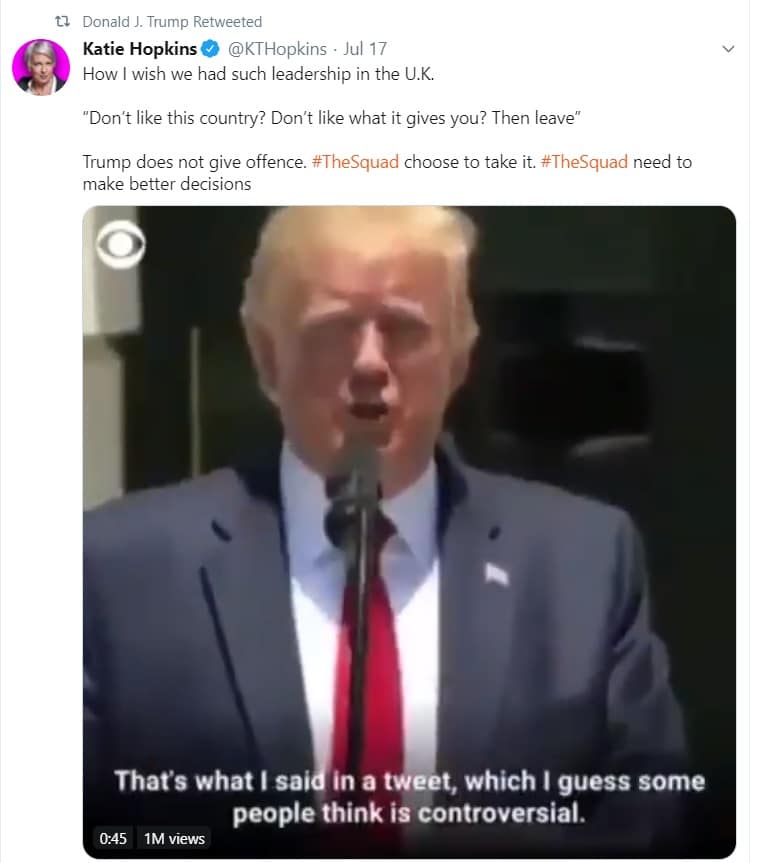 Hopkins, and by extension Trump when he retweeted the message, doubled down on Squad attacks.
Then the President began retweeting by adding his own commentary:
With the incompetent Mayor of London, you will never have safe streets! https://t.co/pJqL1NjyvA

— Donald J. Trump (@realDonaldTrump) July 20, 2019
London Mayor Sadiq Khan is a Muslim, of course, who Trump has hated since he was elected.
As you can see, I did nothing to lead people on, nor was I particularly happy with their chant. Just a very big and patriotic crowd. They love the USA! https://t.co/6IVKEffNnq

— Donald J. Trump (@realDonaldTrump) July 20, 2019
Here Trump equates the racist chant "Send her back" with patriotism — he claims, like white supremacist Hopkins does, that it is "patriotic" to get rid of immigrants.
So Trump is confirming that he meant everything he said, that he intended for it to be racist, and that he appreciates support from the rest of the white supremacist community.
Got it.
Featured image via screen capture
Like what you see here? Join the discussion on Facebook over at Americans For Sanity!