Donald Trump is so excited by his shiny new thing, the Space Force™, that he very kindly asks that everyone stop thinking about conspiring with the Russian government to win the 2016 election, or his son's meeting with a Russian government lawyer, or the fact that the entire Republican party has seemingly been infiltrated by Russian spies.
But despite his best effort — and by that, we mean, he tried to have a contest among not all Americans, but his supporters only, to help choose a new logo for the new agency — a pretty unlikely reminder of Trump's Russian entanglements just came from a hilarious source: The Russian Embassy here in America.
The Trump reelection campaign is already underway, and today they sent an email out to donors:
President Trump wants a SPACE FORCE- a ground breaking endeavor for the future of America and the final frontier. As a way to celebrate President Trump's huge announcement, our campaign will be selling a new line of gear. But first we have to make a final decision on the design we will use to commemorate President Trump's new Space Force- and he wants YOU to have a say."
Accompanying the request was an arrangement of logos for supporters to vote on: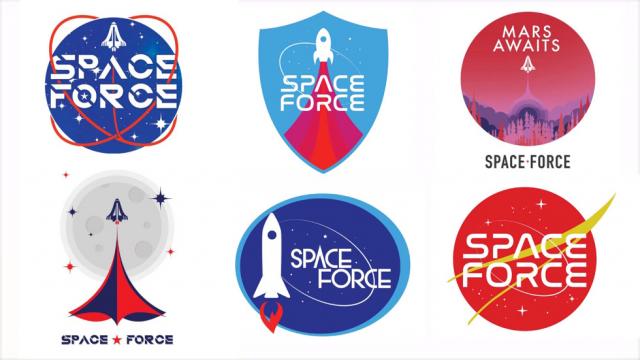 Setting aside the fact that Trump is treating the creation of a new branch of the military as a game that only Trump supporters are invited to play — redirected, of course, after voting to donate to the campaign — this whole effort is just silly. If Republicans hadn't billed themselves as the party of "small government" since the beginning of time, perhaps Americans wouldn't have as hard a time swallowing the creation of the Department of Homeland Security, ICE, and now a "Space Force."
But somebody thought the logo effort, in which most of the ideas were clearly ripped off from NASA, was silly enough to make fun of:
Good Morning, Space Forces!

🚀 https://t.co/70gn54pdqz🇷🇺 pic.twitter.com/t7sBn0uxP4

— Russia in USA 🇷🇺 (@RusEmbUSA) August 10, 2018
Ironically, Russia does have a space force — a division of its Air forces, which integrates satellite technology into Russian defenses.
So Na Zdorovie, Russian Embassy, and thanks for the laugh!
Featured image via pxhere free images