It was almost difficult to take in all of the news from yesterday, but now that the flood of information has passed, it's much easier to look back and see what happened.
Obviously, the President's former lawyer and former campaign manager each ended the day guilty of 8 federal charges against them — the first because he was found guilty and the second because he pleaded guilty. Of course, praise from Trump this morning all goes to Paul Manafort, who most suspect Trump is planning to pardon, since he didn't cut a deal and didn't implicate the President in any crimes, as Michael Cohen most certainly did.
In fact, Cohen's lawyer has already said that his client would not even accept a pardon from Trump, and the calculus there is also pretty plain: It is possible that a court shows Cohen leniency if it is found that the crimes he committed may not have been carried out at all, but for the urging of his boss. If Cohen accepted a pardon from Trump, it would not only be a supreme admission of personal guilt, but it would look like he was still in cahoots with Trump.
But you know who can't be pardoned? A company can't be pardoned. And aside from implicating Donald Trump in the plan to pay off mistresses before the election, that's exactly who else is involved, according to the documents shown in court yesterday. In fact, THE "Company," according to those papers, is the Trump Organization: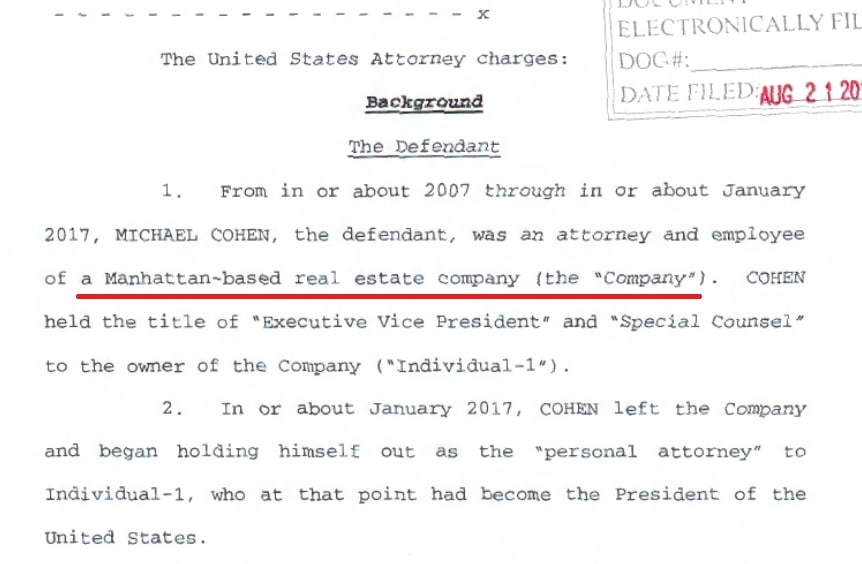 And you might even get almost all the way through these charging documents without thinking about the Trump Organization again, if "the Company" didn't pop back up later on in the paperwork as the entity that paid back Michael Cohen for the illegal payoffs that silenced Trump's two mistresses. In fact, not just "the Company" is named, but executives of the Company: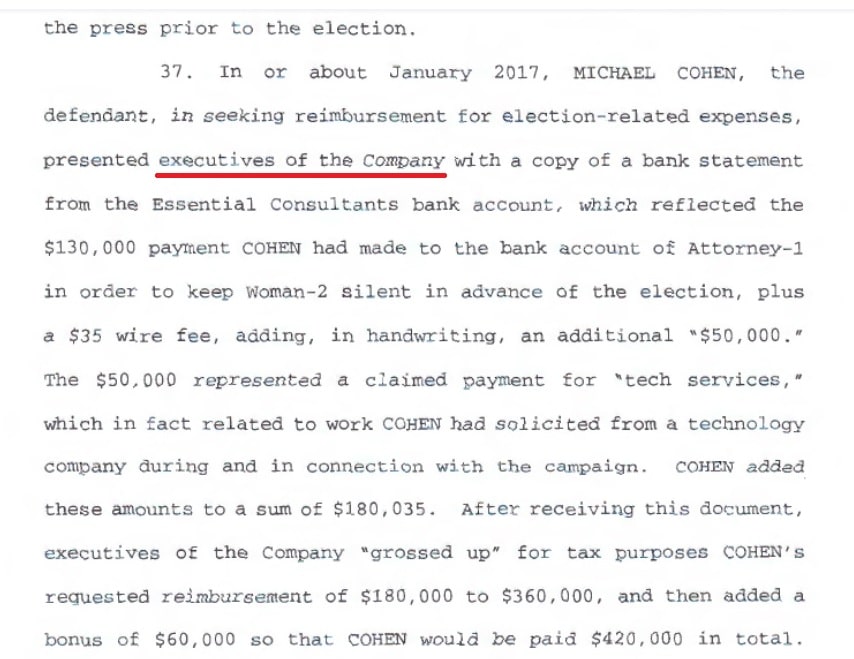 Well, guess who Donald Trump handed "the Company" over to on January 11, 2017, just before Michael Cohen was illegally reimbursed for these unlawful "campaign contributions" that bought the silence of Trump's two victims: Donald Jr. and Eric Trump, his two sons.
If the Vanity Fair article we referenced yesterday is any indication, Trump's biggest fear is that his sons will go to prison. Now it looks like that may be the case.
Featured image via screen capture