Not too long ago, Vice President Mike Pence visited with the Broward Sheriff's Office in Florida during a visit to the southern state, in an apparent gesture of gratitude for their assistance with security associated with his visit to the Israeli-American Council National Conference.
As he is known to do, Pence was eager to have his picture taken surrounded by big strong men in uniforms, a fetish he seems to have cultivated since his ascension to the Vice Presidency. So he called on the BSO S.W.A.T. team to pose with him for photos.
What he didn't realize as it was happening was that at least one of the officers in the picture that he tweeted was wearing a patch depicting the logo of the "Q Anon" conspiracy, a theory popular among (insane) Trump supporters that the President is locked in battle with Robert Mueller for the soul of America, fighting a war to uncover a secret ring of pedophiles that includes high-profile Hollywood actors and Democratic politicians, including Hillary Clinton and Barack Obama.
The mysterious figure "Q" — supposedly an undercover high-ranking government official — drops secret, encoded messages on internet forums like 4chan, 8chan, and Reddit describing the "real" activities and motivations behind actual events and "leaks" information to the public that is then decoded by self-appointed commentators who are "trained" to decipher the clues in Trump's speeches, clothing choices, times of departure and arrival, and virtually every other aspect of any decision he makes that can be ascribed any level of meaning.
They're, uh, crazy.
So when Pence first tweeted the picture, people took notice: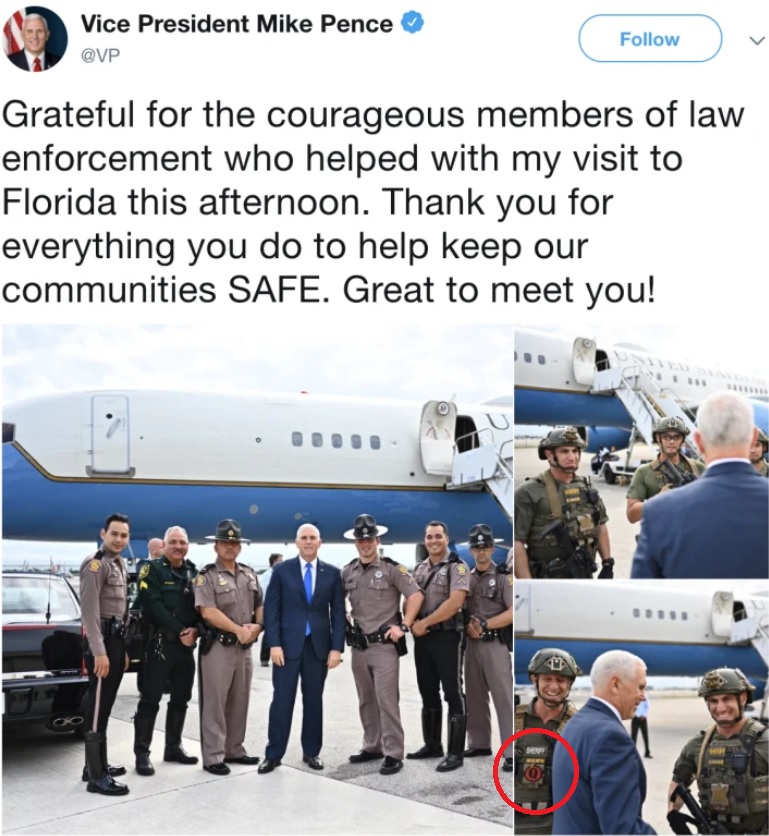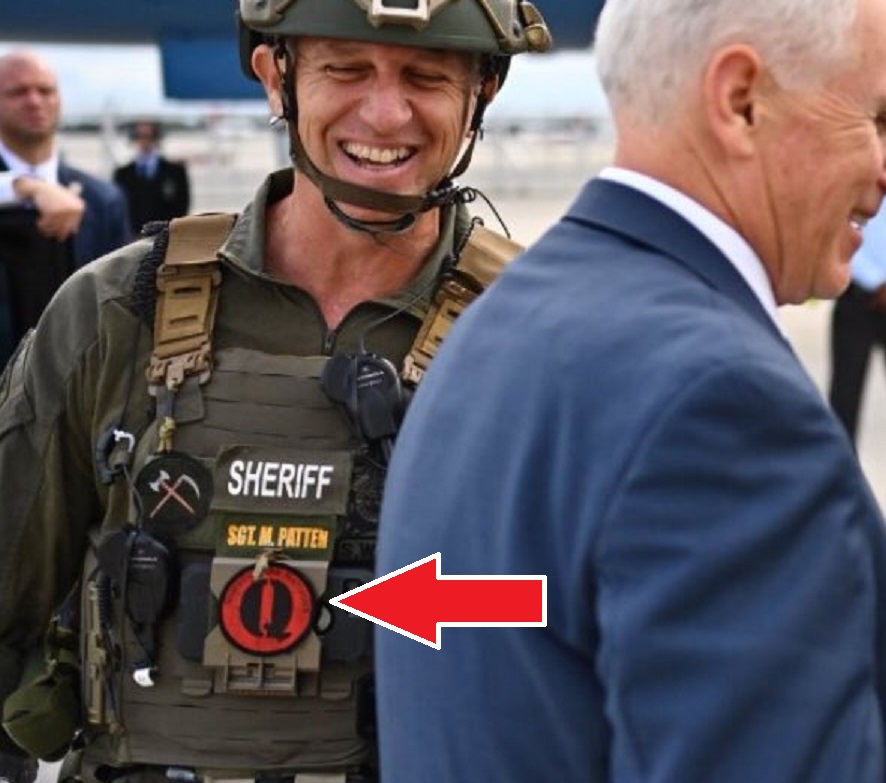 The Vice President's social media manager didn't leave the tweet up for long — it was deleted and replaced with a version without the man with the symbol:
Grateful for the courageous members of law enforcement who helped with my visit to Florida this afternoon. Thank you for everything you do to help keep our communities SAFE. Great to meet you! pic.twitter.com/Lh9Udk5fr2

— Vice President Mike Pence (@VP) December 1, 2018
With the conspiracy crowd, however, the damage may already be done.
Featured image via screen capture