The Daily Mail, a mostly gossip-based news agency that began as an offshoot of the UK's Mail on Sunday, specializes in scooping stories that you may not have known you wanted to read until you found out it was there for the reading. Much like US celebrity magazines like US Weekly or InTouch, DM loves to follow around the world's favorite faces and hunt through their social media posts for clues into their real lives.
Former First Daughter Malia Obama has been a favorite of the paper since she was 10 years old — when her father first ran for President. Now that she's in her second year at Harvard, her appearances in public may have dwindled but interest in her hasn't waned much — especially considering the children of the current President, who leave nothing to the imagination and are generally hateful, out-of-touch, and nothing like the approachable First Family that America had for eight years during the Obama administration.
In the course of tracking down information about Malia, Daily Mail uncovered a secret Facebook page — yes, your kid probably has one too — that Malia posted numerous pictures to, memes in support of causes, and comments back and forth with friends on the photos and posts. Even Finnegan Biden, the granddaughter of former Vice President Joe Biden, appears on Malia's profile.
But the juiciest tidbit that Daily Mail came up with this time — after years of hounding her for pictures, asking about boyfriends, and even raising the question of marijuana use — was a special message that Malia posted about Donald Trump back in 2017 shortly after he was inaugurated.
The image serves as her cover photo and appears to be the refrigerator/kitchen area of a college dorm (judging by having been in the college dorms of my own kids), and shows a series of pink Post-It™ notes that detail just what she thinks of her father's successor: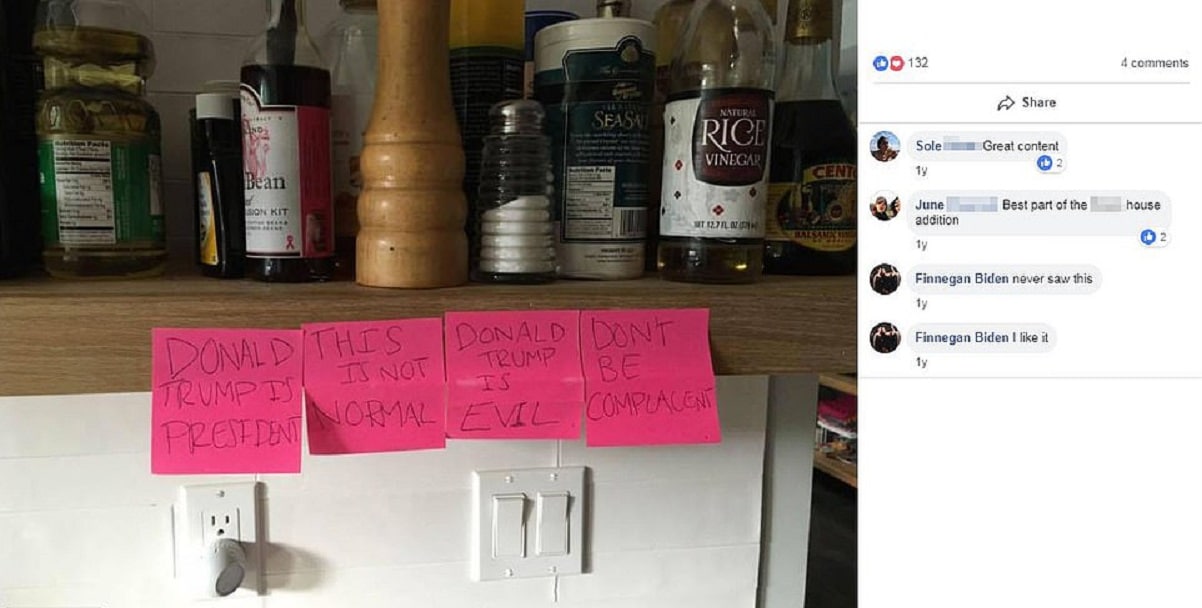 "Donald Trump is president"
"This is not normal"
"Donald Trump is evil"
"Don't be complacent"
As far as we're concerned, that's a series of astute observations and a keen piece of advice.
Featured image via Facebook