According to a new filing obtained by Politico reporter Josh Gerstein, Trump's top adviser — and son-in-law — Jared Kushner is using his Secret Service detail for more than just security.
In a motion filed with the federal court in the Southern District of New York, the Democratic National Committee asked a judge to allow them to serve Kushner with a civil action complaint using first class mail, something that's generally not allowed in lieu of process serving a defendant in person.
The DNC was forced into the unusual position by the fact that Kushner has been using his Secret Service detail to turn away the process servers who have attempted to deliver the complaint to him.
The civil action is in regard to the Russian hacking that took place in 2016 and before. DC Tribune has obtained a copy of the lawsuit which was filed April 20, and the motion to serve Kushner via first class mail follows similar motions against many on the long list of defendants in the litigation: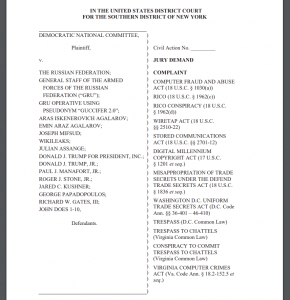 The original lawsuit which the DNC has been attempting to serve the defendants with would, in the case of a criminal mistrial — or in the case of pardons issued by the President — at the very least find those listed as guilty of the hacking and the conspiracy surrounding it in a civil case, and therefore liable for the outcome of that action.
Kushner, Manafort, and Donald Trump Jr. are all listed as defendants due to their attendance at the now-infamous Trump Tower meeting which entailed an arrangement ostensibly to trade the damaging information about Hillary Clinton obtained through the hacking effort for a reduction or even possible lifting of the sanctions levied against Russia under the Magnitsky Act six years ago. The principal Russian emissary in attendance was Natalia Veselnitskaya, a lawyer for the Kremlin whose primary job since 2012 was to work toward getting those sanctions lifted.
Trump himself is named presumably because of his role in crafting his son's response to reporters' questions about that meeting, suggesting that he knew about it from the beginning, and bringing the likelihood that he was not involved in arranging the trade to near zero.
Kushner has, for lack of a better term, been "ducking" the process servers, hoping that by making himself unavailable for service he will avoid being officially named in the suit. But using the Secret Service to block attempts by official process servers — not to mention having them turned away by mail clerks, security guards, and even the doorman at his home — is a new low, even for someone from inside the tight ring of possible conspirators in the Trump/Russia case.
Featured image via screen capture