If you thought the prostitution bust that ensnared New England Patriots owner Robert Kraft wasn't going to eventually involve his close personal friend Donald Trump you were sorely mistaken. But as it turns out, Trump's involvement doesn't come in the form of presidential support for the accused "john" but rather a deeper tie — Trump was also friends with the founder of the massage parlor where Kraft was caught on video paying for oral sex prior to the January 20th AFC Championship game between the Patriots and the Kansas City Chiefs.
Li Yang, a "self-made entrepreneur" from China, founded the chain of day spas in South Florida that became known as Tokyo Day Spas, which, according to the Miami Herald, have garnered themselves a reputation for being places you can find a "happy ending," if that's what you're after.
Yang, who goes by Cindy, no longer owns the establishment where Kraft was busted on film soliciting prostitution. The location that she founded in 2007 as a Tokyo Day Spa in Jupiter, Florida was sold in 2013 to Hua Zhang, another businesswoman, who changed the name to Orchids of Asia. Zhang has been charged in connection with the prostitution sting, while Yang has not.
However, Yang is not necessarily in the clear. According to the Herald,
Online reviews from prior to 2013 suggest sex was for sale at the Tokyo Day Spa Jupiter location even before it became Orchids of Asia. Although the name and ownership of the location have changed, the decor has not. A photo from a Tokyo Day Spa Yelp review shows the same couch, the same wall hanging and the same faux plant as now.

'Used to be known as Tokyo Day Spa and Massage — most of the same girls still work there,' a Yelp reviewer wrote of Orchids of Asia in 2013."
Seen here in a selfie with President Trump, Yang was at Trump's Super Bowl watch party at his West Palm Beach country club, cheering on the Patriots: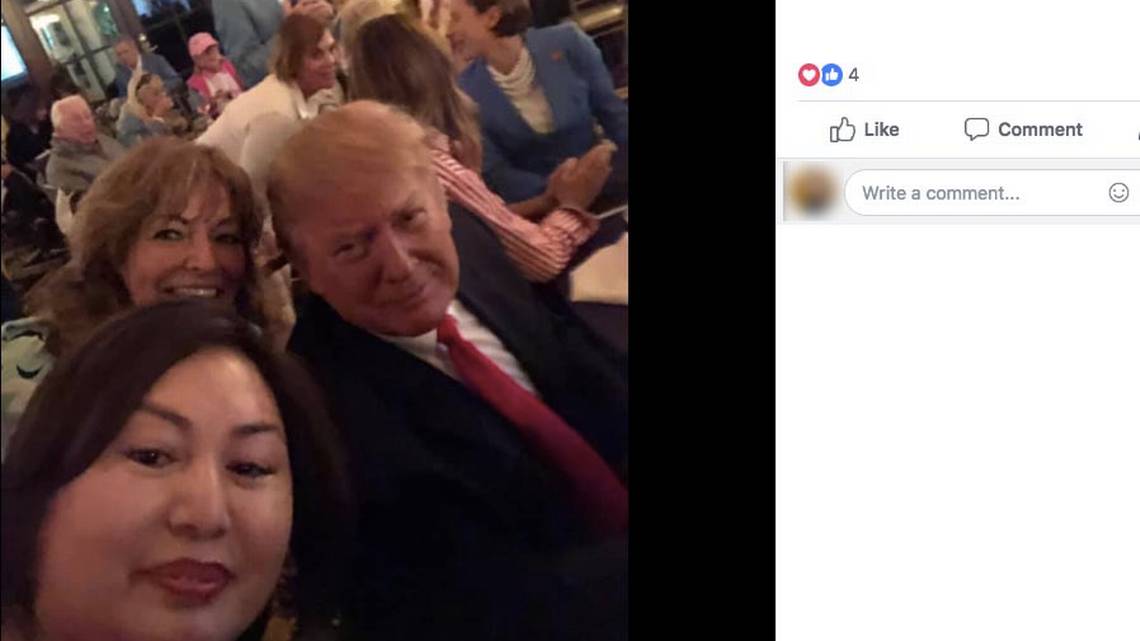 Yang's West Palm Beach location, which her family does still own, was described recently by an internet commenter as "one of the best places in West Palm Beach" to get a "rub and tug." But lest you read too much into the fact that Yang owns a spa famous for secret prostitution in the same area as the country club where she partied with Trump just a few months ago, let me remind you that it's not like they're friend friends or anyth–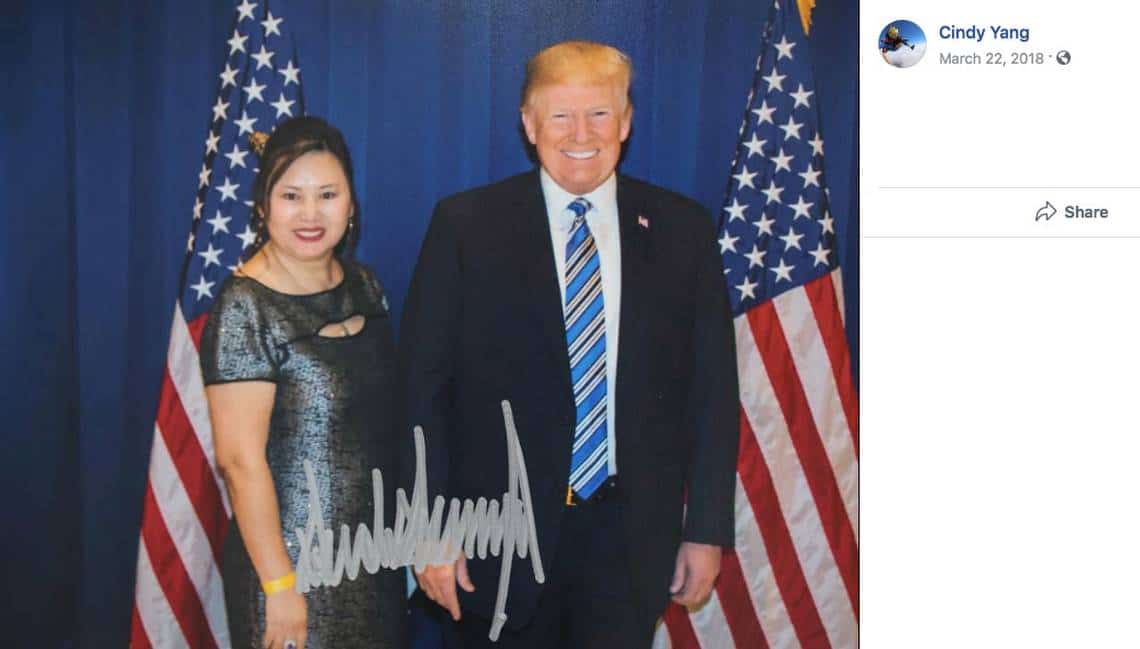 Oh. So these two, like, hang out.
And in the Herald's profile, it looks like Cindy, who was not politically active in any way before 2016,
[…]has now become a fixture at Republican political events up and down the East Coast. Her Facebook is covered in photos of herself standing with President Trump, his two sons, Eric and Donald Jr., Florida Gov. Ron DeSantis, Sen. Rick Scott, Sarah Palin, the president's campaign manager and an assortment of other high-level Republican operators she has met at charity events, political fundraisers and galas, many of which require hefty donations to attend. She sometimes carries a rhinestone encrusted MAGA clutch purse."
OH. Okay, then.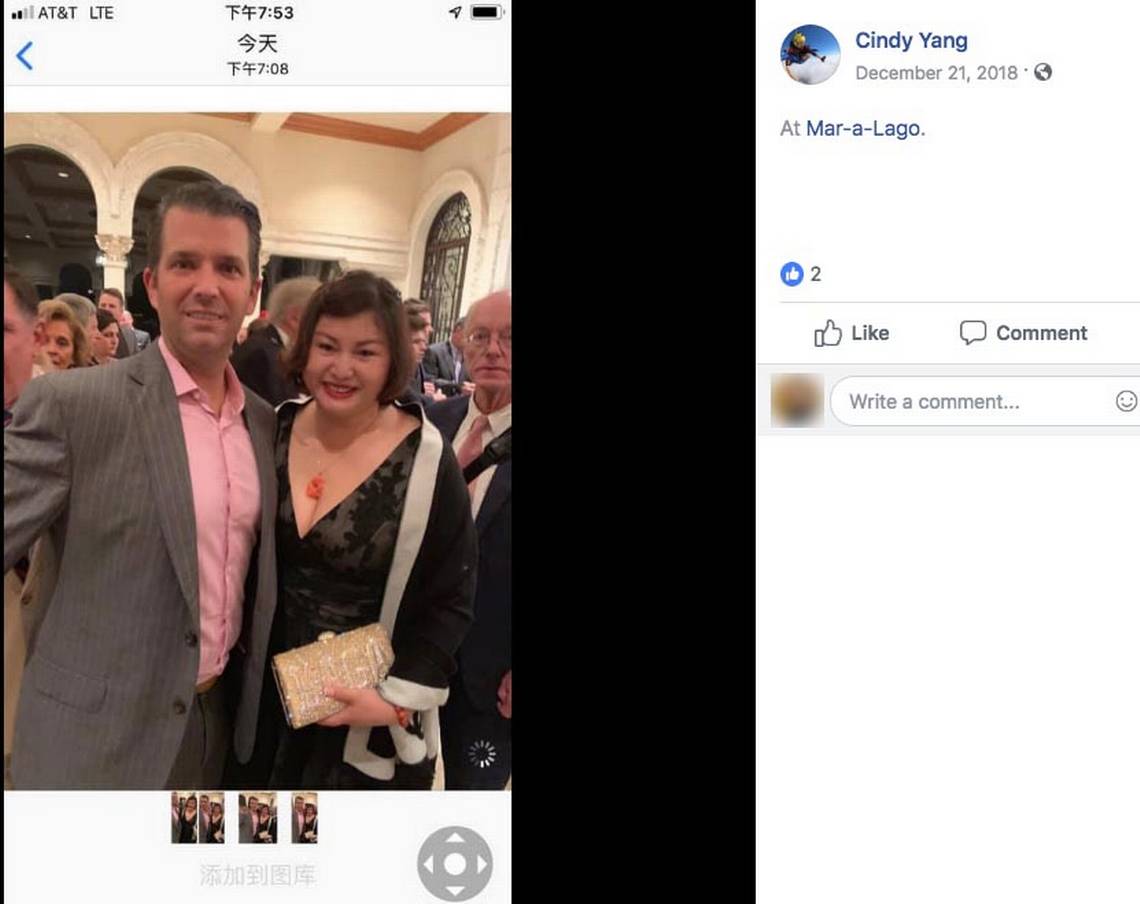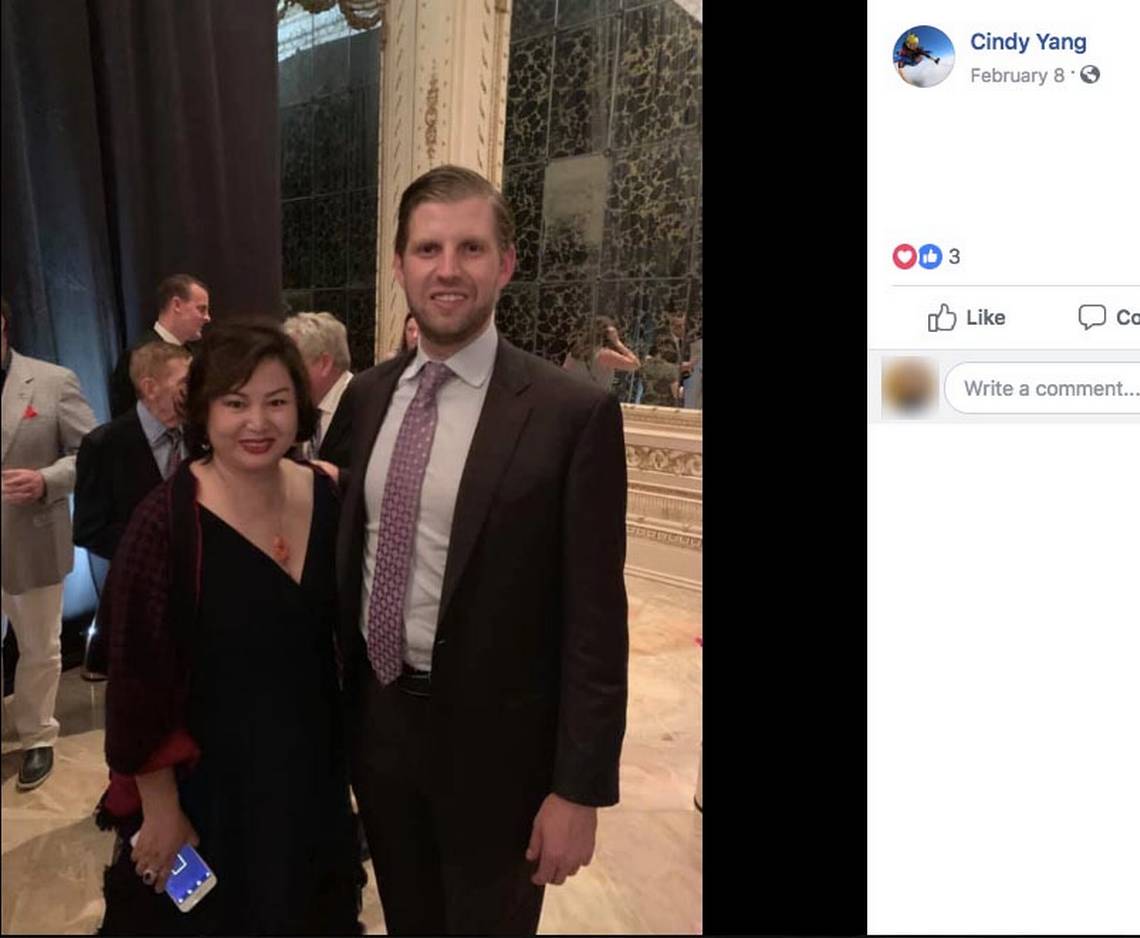 Hey, did you notice how the dates are all different on these photos and that she's wearing something different in each one? That's because apparently, she hangs out with the Trump family all the time.
I guess we'll have to see how happy the ending of this debacle is for Donald Trump.
Featured image via screen capture