On Sunday, Democrats — who now hold the majority on the House Oversight Committee — sent a dire warning to the President over an appearance he made by telephone on the Fox News program of "Judge" Jeanine Pirro on Saturday night.
Trump called in to the friendly program, one of the few left even on the right-wing network after his presidency seems to have gone off the rails in recent weeks, to discuss the report that had just come out in the New York Times detailing the FBI investigation that was initiated after his firing of James Comey to see whether or not he was a Russian agent.
While he was understandably defensive about that accusation, he never actually addressed whether or not he did or does work for Russia — and if you think that's a silly thing to imply just because he didn't say the words "no, I never worked for Russia," perhaps you should brush up on the last two years, in which Trump has very carefully crafted literally everything he's ever said in order to be able to deny having said specifically what people took away from it.
But during that interview, Trump came around to the topic of his former personal lawyer Michael Cohen, whose testimony before the Democratic House is coming up in the first week of February. Cohen, of course, has been convicted of financial and campaign crimes, the latter of which he also implicated Trump in by name — the full context being that Cohen committed those crimes at the direction of the then-candidate according to the testimony he gave during his trial.
Cohen is widely expected to give similar testimony to Congress, but while the court trial resulted only in consequences for Cohen himself, it could mean more for Trump in terms of the House — the chamber in which impeachment charges originate.
During their discussion, Trump specifically told Fox News to look into Michael Cohen's father-in-law as retribution for Cohen's upcoming testimony in the House — and Pirro asked for the man's name live on air, as though she intended to initiate that investigation herself.
But you, uh… Can't do that.
It's actually pretty illegal to publicly threaten a witness either in a court proceeding or before testimony to Congress, and Oversight Dems felt the need to remind Trump of that — or perhaps inform him for the first time, since he doesn't seem to know much about what's legal and what isn't.
BREAKING: House Chairmen issue warning after #president's statements on Cohen testimony https://t.co/YF8XeLbdsi

— Oversight Committee (@OversightDems) January 13, 2019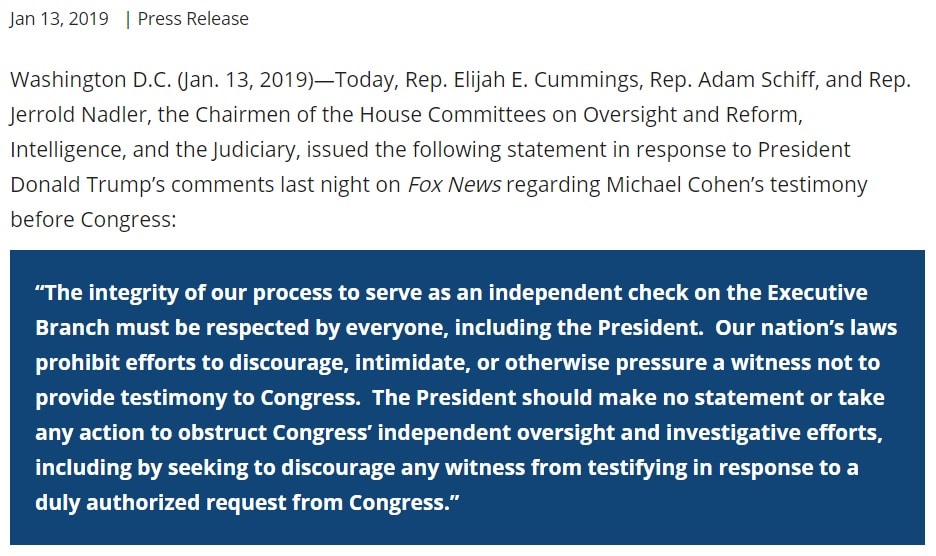 Maybe Trump should take advantage of all this alone time at the White House and do some introspection.
Featured image via screen capture