VoteVets, an organization dedicated to ensuring veterans have a voice in national affairs, is tired of having that voice drowned out by Donald Trump and his administration. Representing over half a million veterans, their families, and those who support them, VoteVets has been doing a job that many members of Congress even fail to do, and they've been doing it for a dozen years — since a time when Bush was busy creating even more combat veterans to add to their ranks.
But today's methods of messaging primarily revolve around social media, and that means the organization must use their platform to communicate exactly what it is they stand for and what they offer by way of support to veterans. Sometimes, that communication requires that they respond directly to the President of the United States. And Twitter, the preferred medium of choice for Donald Trump, is one way they can do that: The social media giant has, in a way, flattened the globe, allowing regular everyday people to perhaps talk to movie or pop stars, influencers to have input on policy, and for popular movements to take hold by reaching out to those we might not otherwise be able to contact.
That was the basis for a ruling a few months ago by a judge who heard a case against the Trump administration for his habit of blocking people on Twitter whose input he did not want to read.
And although the judge ordered Trump not only to unblock every user he had blocked — ruling that since he makes official proclamations via his Twitter feed, that it is subject to the First Amendment and the government's inability to stifle speech — but to stop blocking anyone else in the future.
Obviously, Trump has forgotten, because while he did unblock some users, others remain on his blacklist — including VoteVets.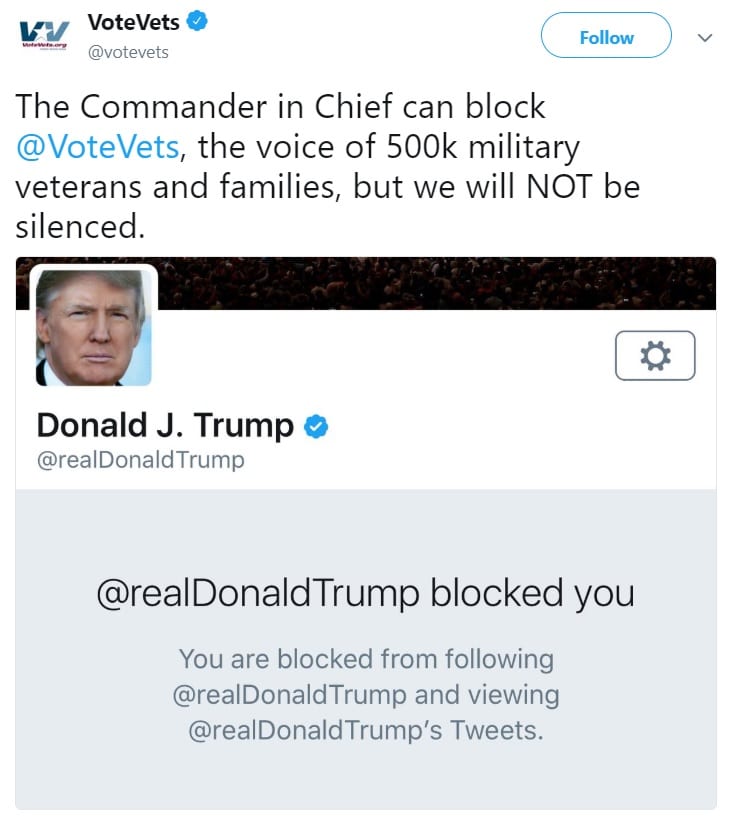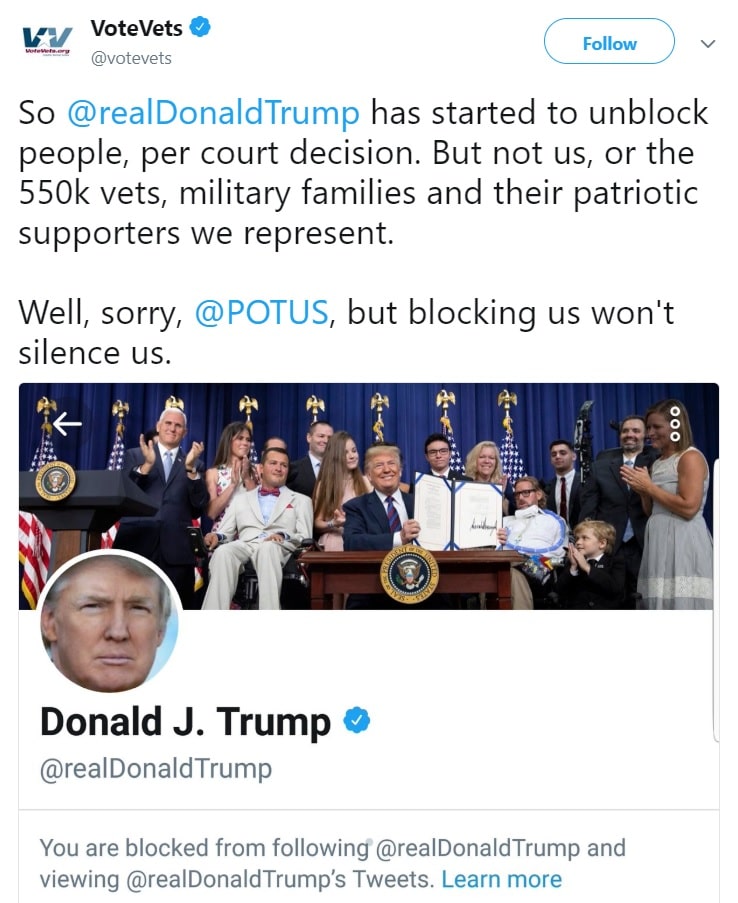 And honestly, it's not even about the fact that Trump is so sensitive about replies to his tweets that he illegally punishes certain users by gagging them. It's about the fact that he would even want to block a group that represents America's bravest in the first place. What kind of president stifles the freedom of speech of those who fought to ensure it?
Featured image via screen capture/composite