As Donald Trump's investigations continue to ramp up and his minions are going down one by one, it's clear that the president is getting nervous as hell because Special Counsel Robert Mueller is closing in on him. His attacks against the media have gotten worse over the last several months as he viciously tries to distract from his scandals.
Just weeks ago, Trump condemned the media once again in a tweet:
Does the Fake News Media ever mention the fact that Republicans, with the very important help of my campaign Rallies, WON THE UNITED STATES SENATE, 53 to 47? All I hear is that the Open Border Dems won the House. Senate alone approves judges & others. Big Republican Win!

— Donald J. Trump (@realDonaldTrump) December 7, 2018
Trump is doing everything he can to discredit the media in that tweet and trying to turn America against the free press. How Trump treats the media is absolutely vile, but no one should be surprised. In the past, Trump has called for violence against reporters and even cursed one reporter out during a campaign rally.
Just earlier this year, Trump was giving a speech at a rally in Pennsylvania when he went completely off the rails and attacked NBC's Chuck Todd in a profanity-infused rant that left the audience stunned. After attacking several of his other critics, Trump yelled that Todd was a "son of a b*tch":
Did you ever see the story where it is 1999; I'm on Meet The Press a show now headed by sleepy eyes chuck Todd. He is a sleeping son of a bitch, I'll tell you. And they showed it this morning."
So "presidential," right? It's hard to believe that a president could act this way, but here's the footage to prove it:
Everyone's favorite Trump-ism ("Sleep Eyes Chuck Todd") makes a return. pic.twitter.com/15eZJoxXCr

— IJR (@TheIJR) March 11, 2018
It should be noted that Trump launched into this rant when he was supposed to be promoting a Pennsylvania GOP candidate. It's no wonder the midterms are looking so bleak for Republicans! This footage of Trump cursing out a member of the free press will forever stand as a low point in Trump's presidency, showing just how vile he is. This reaction pretty much sums up how we're all feeling about it: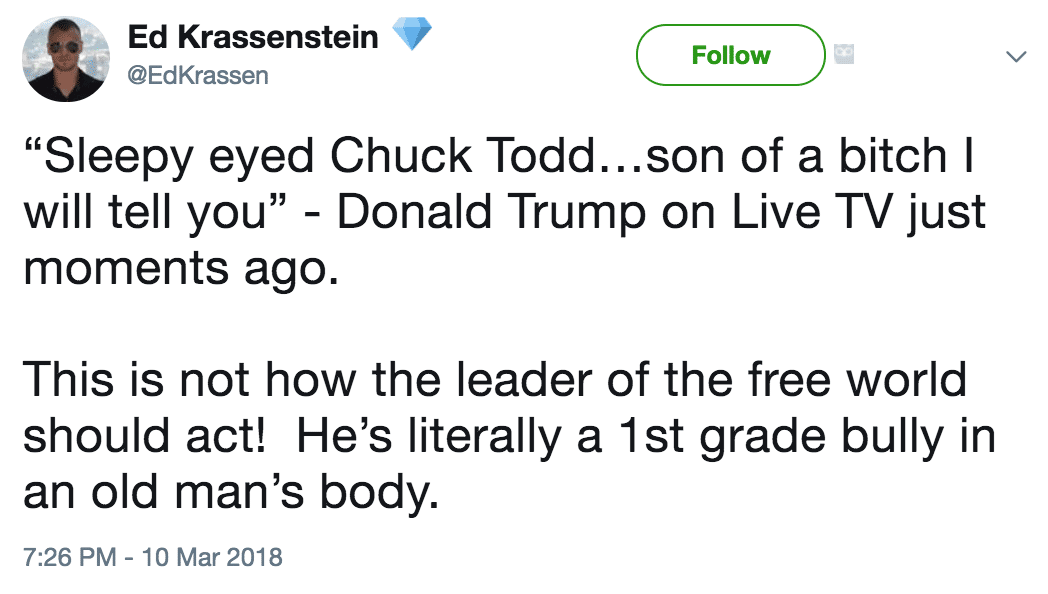 Featured image via screen capture