Donald Trump still hasn't learned that he needs to back off the free press — and thanks to his ignorance and childish outbursts, he just got his ass handed to him by former President George W. Bush!
In an interview with the Today Show, the former POTUS made his most anti-Trump statement yet, clearly signaling that things have gone amok in the Republican Party and Bush is desperately trying to get everyone in line.
Bush, who has been pretty quiet about politics since his presidency ended, made an important statement regarding Trump's recent statement that the media — particularly the New York Times — was the "enemy of the people." Bush put Trump right in his place as he said:
I consider the media to be indispensable to democracy. We need an independent media to hold people like me to account. Power can be very addictive and it can be corrosive and it's important for the media to call to account people who abuse power, whether it be here or elsewhere."
Bush also made another important statement, commenting that it was the president's job to get other world leaders to be more accepting of the free press — the very opposite of what Trump does.
It's kind of hard to tell others to have an independent free press when we're not willing to have one ourselves."
It was an amazing moment and one that Trump will have no idea how to respond to. We have to say that Bush is absolutely right — the way Trump has reacted to and treated the free press is disgraceful and should be a major concern for the country.
As Bush's statements made their rounds, many people showed their support. Former Clinton Secretary of Labor and Trump critic Robert Reich said he never thought he'd be agreeing with Bush so much, but Trump has a way of unifying people across the political aisles – against him: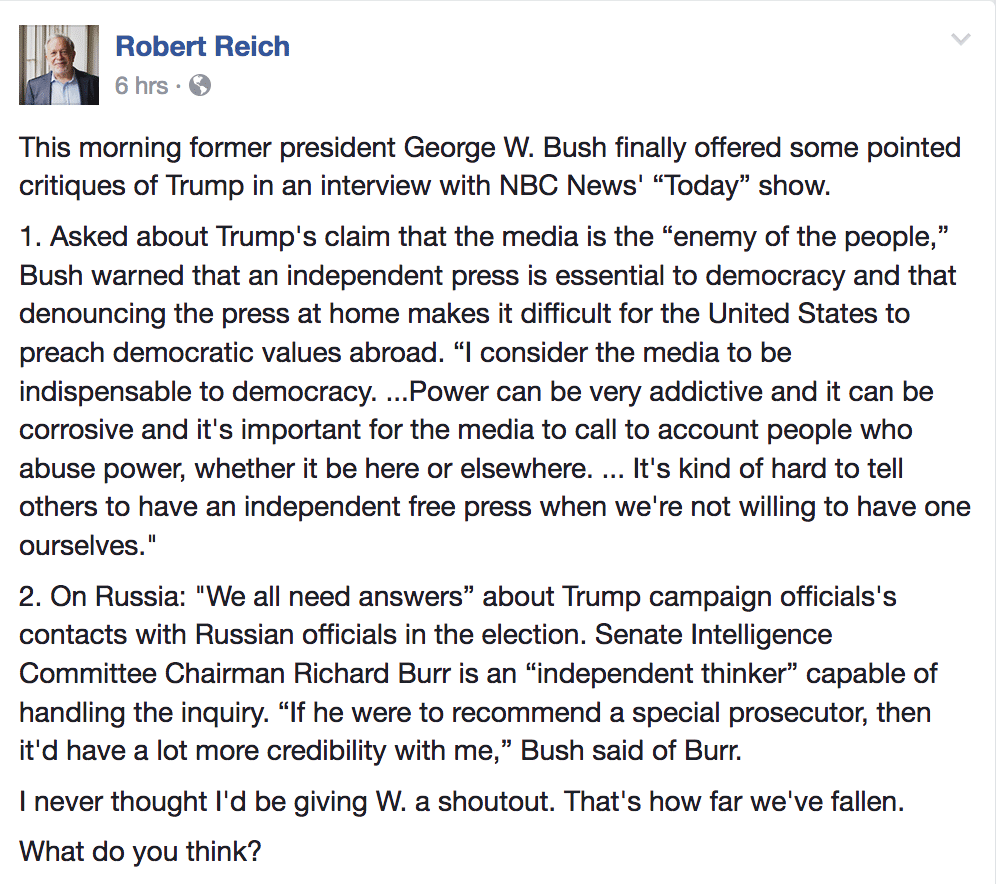 Featured image via screen capture